<![if !vml]>

<![endif]>
<![if !vml]>

<![endif]>
USS HOUSTON CA 30
"The galloping Ghost of the Java Coast"
JOSEPH GRADY BLACK, Jr.
<![if !vml]>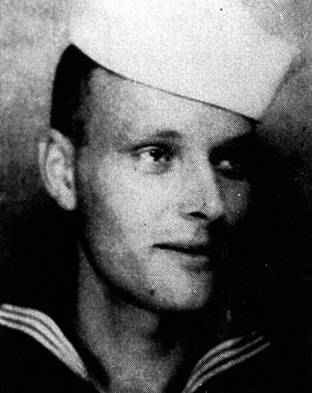 <![endif]>
S1/c U. S. Navy
Enlisted 15 JULY 1940
USS HOUSTON CA-30
Killed in Action - February 28, 1942
American Defense Medal
Purple Heart
As written by Jim Kelly
Post historian, American Legion POST 433 - Midland, North Carolina
Joseph Grady Black, Jr. was born on July 5, 1920 to Joseph Grady Black and Ollie (Burleson) Black, the first of three children..  It is believed that 'JG', as he was known, graduated from Bethel High School with the class of 1938.   JG had a younger brother, William and Roy Lee Black, who died as an infant. JG's dad was known to have a pack of hounds.  Often they would hunt for fox off of Sam Black Road.  JG would tag along as a youngster.
            It is believed that 'JG' felt the winds of war approaching and decided early on to enlist in the United States Navy.  At age 21, on July 15, 1940, he did join the Navy.
            Unfortunately little is known about 'JG's decision making process nor the details of his time spent in the Navy.  We can presume however that he traveled to basic training, returning home briefly before shoving off for California, late in September 1940. 
            It is possible that 'JG' waited in California for assignment.  The old adage which is familiar to military personnel in all branches of service may applied here, "Hurry up and Wait".  Fateful orders were not long in coming however.  Based on archives at the United States Navy Memorial in Washington, D.C., and the USS Houston (CA-30) Association,  it appears that 'JG' received orders to the Houston.  His name is listed among the crew. 
According to the Dictionary of American Naval Fighting Ships, (DANFS), Houston was in Pearl Harbor, Hawaii, fitting out for deployment to the Philippine Islands.  It is believed that 'JG' caught up with his ship at Pearl Harbor prior to her sailing for Manila on November 19, 1940.  Upon arrival at Manila the ship became the Flagship of Admiral Thomas Charles Hart, USN, Commander United States Asiatic Fleet, graduate U.S. Naval Academy class of 1897.
The period of time between arrival on station at Manila and the day war broke out a year later was filled with countless drills for ship's company.  In the event of hostilities the crew needed to become attuned to their ship, intimately, should she suffer an electrical casualty and the lights fail below deck.   Each individual must hone his skills at General Quarters.   The stress of combat demands of each man that he revert to lessons learned in drill.
The flagship's duty was to disrupt Japanese advances across southern Pacific. When the Japanese struck Pearl Harbor, Admiral Hart sailed her toward Darwin, Australia, where she would join the ABDA naval force (American-British-Dutch-Australian) , to curb Japanese advances (under the command of Dutch Admiral Karel Doorman). Houston's number three gun turret was disabled by a bomb on February 4,1942, though during the action she was credited with downing four Japanese planes. On February 15th  she departed from Australia with a small convoy to reinforce the garrison at Timor, and was met with numerous air attacks, valiantly fighting off the attacks without damage to the transports she was guarding.
The End - Battle of Sunda Strait
          Dutch Admiral Karel Willem Frederik Marie Doorman, Senior Officer Present Afloat, (SOPA), received reports of a Japanese invasion force approaching Java, and was determined to stop the invasion. On February 26, 1942, Houston set sail along with HMAS Perth, HNLMS De Ruyter, HMS Exeter, HNLMS Java, and 10 destroyers. This force confronted the Japanese support force under the command of Admiral Takeo Takagi on February 28, 1942 at Banten Bay.  During the battle Houston was sunk by four torpedo hits as well as numerous projectile hits of various calibers. Commanding officer in Houston, Captain Albert Harold Rooks, USNA 1914, (U. S. Naval Academy) was killed by a bursting shell at 0030, the ship came to a stop.  Japanese destroyers swarmed over her, machine gunning the decks.  A few minutes later the gallant Houston, her name written imperishably in the records of heroism, rolled over and sank, her ensign still flying. Houston succumbed to overwhelming Japanese forces, but not before hitting three enemy destroyers and sinking one minesweeper while fighting alone (Perth had already been sunk.)  The full story of the sinking of USS Houston was actually not known by the world for almost 9 months.  Her survivors were picked up by Japanese ships and sent to a prison camps in south east Asia.  You may recall the 1957 movie, BRIDGE OVER THE RIVER KWAI. Houston survivors helped build the bridge and associated narrow gauge railway. 
            It is reported that 693 men survived the battle. Few survived the desperate years and months of captivity and brutal treatment at the hands of the Japanese.  Captain Rooks was posthumously awarded the Medal of Honor after the war as tales of his bravery were learned. The Houston was awarded the Presidential Unit Citation.
            Our native son performed his duty, as did his shipmates. There is no doubt that JG Black loved his family and his country.  He saw danger coming and stood up to face that evil force.  We can ask no more of any man.  God Bless you Joseph Grady Black, Jr
C.J. Kelly
53 Jake Tucker Road
Midland  NC  28107-5417
704.488.1491
04.14.2010