<![if !vml]>

<![endif]>
<![if !vml]>

<![endif]>
USS HOUSTON CA 30
"The galloping Ghost of the Java Coast"
Leonard Earl Bradley
<![if !vml]>
<![endif]>
S2/c Leonard Earl Bradley
Born:  January 18, 1924 - Atlanta, Ga.
Enlisted US Navy January 18, 1941
Transferred to USS Houston CA 30 (about September 14, 1941)
Listed as MIA March 15, 1942
Declared Dead December 15, 1945
Leonard Earl Bradley
A side not to his death;
We, his family, are sure he was killed upon the sinking of the Houston.  On that night we, the family, went to bed as usual.  At or about we were awakened by our mother's screams from an obvious horrific nightmare.  She was crying and screaming and it took some time to calm her down.
When she was finally able to speak, she told us that our brother was dead.  She described what she had seen in her dream, "Earl was in the ocean; his right arm was raised as he shouted out, "Mama" over and over until his head slipped under the waves".
Our mother had gone to bed that night with beautiful black hair, but by sunrise her hair had turned beautifully gray.
As so many times before the Japanese announced their having sunk "The Galloping Ghost".  This was confirmed several days later by that fateful letter (dated 4/9/42) notifying the family that Earl was Missing In Action.
Earl was the oldest of the eight children and the big brother that watched out for us.   Our mother took us all to church and Earl helped her keep us all in line.  Earl enlisted into the military to help support the family and learn a trade.
Our brother, Robert "Bob", the second son, enlisted as part of the replacement crew of "1000", on Memorial Day, 1942.  He wasn't actually sworn it until June 3rd on the train ride to San Diego when he turned 17.  And I, John, enlisted two years after that when I turned 17, June 30, 1944.
Earl was our hero long before there was a war.<![if !vml]>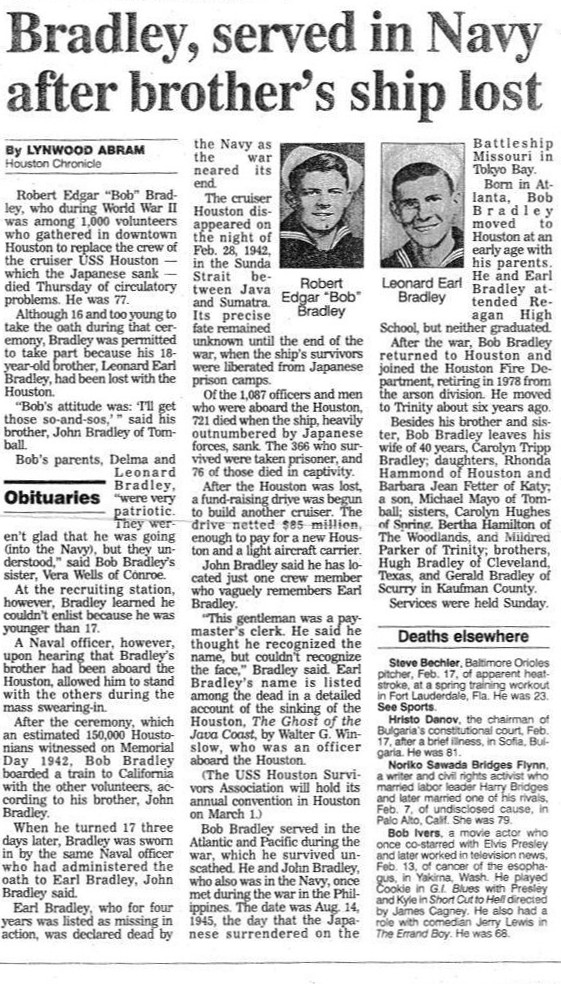 <![endif]>