<![if !vml]>

<![endif]>
<![if !vml]>

<![endif]>
USS HOUSTON CA 30
"The galloping Ghost of the Java Coast"
<![if !vml]>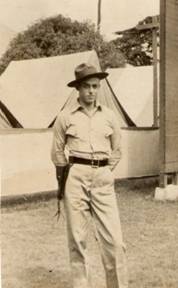 <![endif]>
William Lee Brasfield
Submitted by
Deborah Quinn Hensel
Houston, Texas
my great-uncle, William Lee Brasfield of Alabama
I just wanted to let you know that I have acquired an answer to the question posed below. Apparently, my great-uncle's family was under the impression that William Lee Brasfield Jr. was a POW--until they got the official word in Dec. of 1945 that he had been killed in the Java Sea. That's why they chose to put that date on his headstone--because he had been "alive" in their hearts until then. There is no one actually buried in his grave in Quintown Cemetery. Also, my great-grandmother was so distraught over this news that she grieved for two years, then had a fatal stroke.
A second cousin of mine who has also been doing genealogical research provided this information this morning.
I don't have any first-hand knowledge of him, since his death occurred long before I was born. I will, however, ask my grandmother, who is 97. She is the last remaining member of her family, and she was six years older than her brother. As was often the case in rural Alabama during the Depression, she married quite young. Lee would have been about 10 or 11 when she left home, so her memories of him would have been limited to their childhood together. If you will allow me a couple of days, I can certainly ask her for anecdotes. It's difficult to communicate with her because her sight and hearing have deteriorated so much, but when she understands the questions, I find her memory is still quite sharp.
I do have another question for you, however, and the mystery of this has been troubling me. I see my great-uncle's name on the roster of those who served aboard the USS Houston, and I see that he was killed in action. I assumed that happened in March, 1942. However, there's a headstone for William Lee Brasfield Jr. in the Quintown Cemetery near Birmingham, Alabama. Lots of other family members are buried there (Brasfields and Quinns, including my great grandfather for whom William Lee is named).
This headstone, which shows the correct date of birth for Lee, also shows his death as Dec. 15, 1945. Now, I know there was another USS Houston (CL-81) that was torpedoed off Formosa in the fall of 1944. If he had been aboard that ship, he might have been engaged in that situation and suffered injuries that eventually killed him a year later, but I doubt it. Obviously, the crew list shown on the memorial web site for CA30 were based on the Navy's accurate records, and my grandmother has previously been quite clear in her recollection that her younger brother was killed at sea.
Nonetheless, I can't account for the dates on the headstone--unless it was erected three years later as sort of a memorial. Can you shed any light on this? A theory? It seems highly unlikely, but perhaps his remains were not recovered and turned over to the family until later--and they used that date to mark when they laid him to rest, instead of his actual death date? I suppose I will have to press my grandmother for details, but she may not understand what I'm asking, since it's a complicated situation.
Thanks for your help in posting the photo. I feel it should rightfully be in the online scrapbook--even though I don't understand the mystery of his date of death on the headstone. Actually, I've never seen the cemetery itself, but I have a list of everyone buried there that has been shared with me by other family genealogists. My aunt was one of those who researched a lot of family history before she died, and she was the one who had the photo of Lee among her records.