<![if !vml]>

<![endif]>
<![if !vml]>

<![endif]>
USS HOUSTON CA 30
"The galloping Ghost of the Java Coast"
Alfred Bushell
<![if !vml]>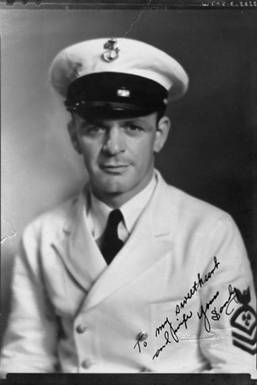 <![endif]>
Biography
Alfred Bushell was my step father and a wonderful father to me. His nick name wan Sandy (I have forgotten why)
He wan born to Anna and George Bushell Jan.1, 1906 in New york City, N.Y. He did have siblings but I only have the names of two brothers, George and John.
Sandy married my mother, Doris, on May 19, 1938.
He enlisted in the Navy Nov. 29th,1920. In the records I have found he served aboard the USS Wandank, USS Antares, USS Talbot, USS Vestal and the USS Huston. His rank was CMM but was appointed 'Machinist, for temporary services, to rank frrom 3 on Feb 16th 1942'.
During his many travels he became a Mason in the Charleston Lodge No. 44,F & AM,
Agana, Guam.
Sandy wan determined officially missing in action March 1,1942. As he was not found among the liberated prisoners his death was presumed Dec. 15, 1945. Admiral Fulton recently called me, and informed me that he and Sandy were together during the Battle with the Japanese, and told me that Sandy did get off the ship but the last he saw of him he was treading water and holding on to a ponton.
Alfred Bushell loved the Navy. And even after 62 years I still mess him.
Written by:
Jayma Engle