<![if !vml]>

<![endif]>
<![if !vml]>

<![endif]>
USS HOUSTON CA 30
"The galloping Ghost of the Java Coast"
Dale R Cooper
DALE ROGERS COOPER was born near Hillsboro, Indiana, July 12, 1920, the eldest child of Marion R. and Ruby Rogers Cooper. He enlisted in the Navy August 24, 1938, receiving his basic training at Great Lakes Naval Training Station anti advanced training at Mare Island, California. He arrived on Asiatic Station aboard the tanker RAMAPO (AO-12) in March 1939. He was stationed at the ammunition depot at Cavite where he studied aerial photography. He reported for duty aboard the USS HOUSTON (CA-30) in 1941, about 6 months before the war.
When HOUSTON was sunk off the western tip of Java just after midnight, March 1, 1942, Dale Cooper was able to abandon ship. He made his way to an airplane float where he found Cdr. Epstein, the medical officer, Cdr. Rentz, the chaplain, 2nd Lt. Gallagher, and 8 others, 2 of whom were critically injured. During the night "Chaplain Rentz said a prayer for the men around him, and at the-conclusion he had disappeared, leaving his life jacket on the pontoon.–Walter Beeson, seaman 1st class, put the jacket on -- not having any." Lt. Gallagher left the float and made his way to Java swimming. The two injured, Pvt. Walter L Marsh and Ducey Tsao OC2c, died of wounds in the water. Around 9A.M. the float had drifted near Toppers Island with 8 survivors left including Dale Cooper. They were helped to the island by Australian survivors of the PERTH. On March 12, Dale Cooper and 6 other men left via raft for Sangiang Island. They were later captured by the Japanese. Of the 11 Americans who eventually made it to Toppers Island alive, 5 would die in captivity.
In January 1943, Dale Cooper sent a post card from a prison camp in Moulmein, Burma, stating that he was in good health and was with a friend, George Hedrick. In August 1943, while working as slave labor on the Thailand-Burma Railroad at 100 kilo camp and suffering from severe malnutrition, he became ill with a tropical ulcer on his right leg. Under horrible conditions at 100 kilo camp as described by H. S. Hamlin, officer commanding the HOUSTON men in Thailand, "Dale Rogers Cooper died on September 27, 1943 and was buried the next day in the camp burial plot with appropriate religious ceremonies, a guard of honor of U. S. service personnel and the poignant notes of taps as he was lowered to rest".
On Christmas eve 1943, just after Christmas Dinner, the family of Dale Cooper received the post card he sent from Burma in January. For the next 20 months they would believe their son was a POW in good health. The local paper takes up the story, "Hopes of their son being alive through recent reports given out that 300 crew members of the USS HOUSTON had been found in a Japanese prison camp in Thailand were blasted Friday, August 31, 1945 for Mr. and Mrs. Marion R. Cooper of Hillsboro when they received a message telling of the death of their son Dale R. Cooper. <![if !vml]>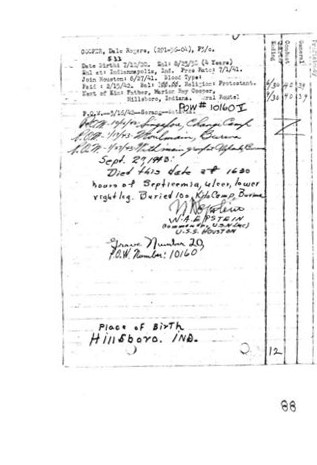 <![endif]>The message stated in part: Dale Rogers Cooper, photographer third class, USN, previously reported a prisoner of war is now known to have lost his life in the service of his country. Information received indicates that his death occurred in a Japanese prison camp in Thailand on September 27, 1943".
In the fall of 1948, 10 years after he joined the Navy and 5 years after his death in the jungle, Dale Rogers Cooper came back home again to Indiana. He was buried in Rose Hill Cemetery in Hillsboro, Indiana. His name was inscribed on the Hillsboro war memorial located in that cemetery. Today he rests next to his mother and father, remembered by his shipmates, friends and family--forever 23.