<![if !vml]>

<![endif]>
<![if !vml]>

<![endif]>
USS HOUSTON CA 30
"The galloping Ghost of the Java Coast"
<![if !vml]>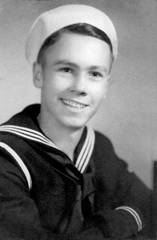 <![endif]>
Robert "Bobby" Dotson
"I got the photos from Nella June Dotson.  They are courtesy of Bobby Dotson, son of Jack Oscar Dotson, Jr.'s, who was named for his uncle, Robert "Bobby" Dotson, who died during the war.  -Velma"
<![if !vml]>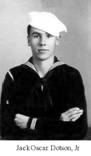 <![endif]>Robert "Bobby" and Jack Oscar Dotson, Jr. (twins) were born 28 June 1920, in Canadian, Hemphill County, Texas to Jack Oscar Dotson, Sr. and Pansy Ola (Moss.) --"Junior" enlisted 9 October 1937.  After being sent home to gain some weight, Bobby enlisted 12 November 1937 in Houston, TX, both were 17.  Junior reported aboard the USS Houston as a Seaman on 13 January 1938, but was transferred to the just-commissioned USS Swanson on 29 May 1941. Bobby reported aboard the Houston a couple months after his brother, on 7 March 1938 and was still aboard when the ship went down. Junior survived the war and lived until 16 May 1997, aged 76.
My dates were gleaned from the WWII Navy Muster Rolls, and other records at Ancestry.com.
<![if !vml]>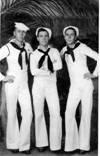 <![endif]>Hope you can use the photos on your site. Velma felt confident that that would be fine. It would be interesting to see if the 'unknown friend' pictured with the Dotson brothers can be identified from the photos of other crew members of the USS Houston. It would make sense for them to have had the photo made while they served aboard the Houston together.
~Carol Van Cleff
Third cousin of Bobby.