<![if !vml]>

<![endif]>
<![if !vml]>

<![endif]>
USS HOUSTON CA 30
"The galloping Ghost of the Java Coast
Frank Gallagher
<![if !vml]>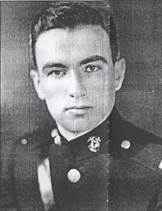 <![endif]>                         <![if !vml]>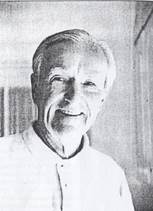 <![endif]> 
Faith in Freedom
Ned Gallagher spent nine hours in the Java Sea and more
than three years as a Japanese POW before coming home
By Peter Fauvin
<![if !vml]>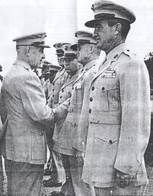 <![endif]>I never doubted for a minute in 3 1/2 years that the war would be won by America and that I would be repatriated," says Ned Gallagher, a 35-year resident of Palo Alto who was cap­tured by the Japanese on March 1, 1942, and held as a prisoner of war until World War II ended 50 years ago this week.
( Right, Gallagher and other Marine officers at a commendation ceremony with General 'Bo' Ridgeley at Camp Pendleton 1959).
"I think that must have contributed a great deal to my even­tual survival, because I was not discouraged or depressed. I was just constantly confident that America would win."
Other Allied servicemen Gallagher was with did not fare as well.
"Most were equally positive, but there were a wide range of attitudes about the way they looked at life. Those who were pessimistic and discouraged didn't do well physically. Some of them even died. Some of them gave up. It was an extraordinary thing; when that happened they were gone in two or three weeks... . They never thought that America would win. They never thought that they'd go back home. . . . They died just because it was a mental conclusion."
The pattern was the same each time. They would withdraw from their friends and isolate themselves; they would stop eating. "It was a terrible thing to see."
Gallagher, now 80 and remarkably fit-looking, was 22 when he joined the Marines after graduating from Boston University, where he was in the ROTC program.
In December 1940, following nine months at Basic School in Philadelphia, he was assigned to the Marine detachment on board the USS Houston. Based in Manila, it was the flagship of the Asiatic fleet.
A heavy cruiser with nine eight-inch guns on three turrets, the Houston was part of a combined Allied force of Dutch, British, American and Australian ships when the Battle of the Java Sea broke out one day in late February 1942.
The battle was inconclusive when dark­ness came and was not continued into night. "I don't think we lost any ships, al-though the Houston took a couple of hits; one of the shells went through the forecastle (the main deck on the bow) and out the other side of the ship," Gal­lagher recalled.
But the outcome of the next bat­tle, several days later, was not in doubt.
Just after midnight on March 1, the Houston and another ship, the Australian cruiser HMAS Perth, were overwhelmed by Japanese forces. The Perth was sunk in about 20 minutes. The Houston, hit with three torpedoes and numerous shell fire hits, lasted about an hour and 15 minutes.
"The abandon ship signal was sounded. The ship was listing to port about 20 or 25 degrees and it was mortally wounded. We lost one fire room and we lost a lot of power and the ship was only moving at about five or six knots. It was keel­ing over and it was getting ready to go down."
Gallagher went to his abandon ship station, jumped over the side and clung to the ropes of a crowded life raft.
The ship's chaplain was next to him, he recalls. "His name was Rentz. He was a commander and he was very old. He kept saying to me, 'My heart is stopping, my heart is stopping.' And I tried to get him to move his legs and activate his body and he did. And then he would be all right for a few seconds.... He eventually passed away, right there."
Many more would also be lost. The 10,000-ton ship went down with approximately 1,100 crew members aboard. Only 248 sur­vived, Gallagher learned later.
The life raft was so crowded that Gallagher, an experienced swim­mer, felt he would be better off if he just swam himself.
"I swam for a long time, about nine hours, and I eventually reached Java. I knew it was Java because in the Sunda Strait that night there was a full moon and there must been a million stars in the sky, it was per­fectly clear, and I could identify a mountain off the southern tip of Sumatra, the volcanic peak Kraka­toa."
The current through the Sunda Strait, a key avenue of sea traffic between the Indian Ocean and the South China Sea, was swift, north to south at about about 4 1/2 knots. "I was really not making much headway. I had a life jacket on and it kept me vertical . . . I didn't start making headway to Java until I got into the lee of the island.
"It was a very extraordinary ex­perience. For most of the time I was alone and an extraordinary thought crossed my mind: It suddenly oc­curred to me that nobody knew where I was . . . nobody. Nobody on the ship, the captain, the com­modore of the Marine corps, my mother and father. Nobody. Nobody knew where I was. It was the first time and probably the last time (in my life)."
After passing through the strait, the current subsided and Gallagher finally made it to a beach on Java sometime after sunup. "I was totally exhausted. I couldn't stand up for a while."
Java was occupied by the Japanese, but the fear of being cap­tured never occurred to Gallagher. "I never thought about the Japanese. I was totally consumed by the task at hand."
Over the next hour or two about six or seven other survivors came ashore at the same place. One naval officer, Tommy Paine, would be with Gallagher from that moment until they were liberated 3 1/2 years later.
They rested. "We knew generally where we were on the island. We thought we'd start, southeast, and hopefully if we were lucky, come to the port of Tilaujap, on the southern coast of Java, which up until that time had been in Allied possession . .. But as we were crossing a field we saw some soldiers who we thought were Dutch soldiers. We shouted to them and attracted their attention and they started moving toward us. They got about 20 feet away and they broke out their flag and it was a Japanese flag. So that was the end of the war for me. It was a shock because the shape of the helmets of the Japanese and the shape of the helmets of the Dutch were similar."
The rest of the war would be without combat for Gallagher, but his battle to survive as a prisoner was just beginning. It was only 1942.
He was first taken to a Javanese movie house that served as a tem­porary holding facility, sans enter­tainment, where he slept on the floor for about a week. Then he was put in a Javanese civilian jail for an-other week, before he and several other officers were taken to Japan, to an interrogation camp called Ohuna on the main island of Hon­shu.
The small, specially built camp consisted of a collection of wood-sided buildings. They slept on straw tatami mats in single cells. "The ventilation was adequate and the light was adequate, so it wasn't a dungeon," Gallagher said. They were allowed outside once a day un­der supervision. They weren't sup-posed to talk, but they managed to whisper.
He was never tortured, he said. "I was abused. We had some abuses in the interrogation camp, but they weren't excessive."
After about three months they were taken to the prisoner of war camp, a converted Japanese army barracks in the town of Zentsuji on the southern island of Shikoku. This would be his home for nearly three years.
There were about 200 POWs in the camp from various Allied coun­tries, 20 or 25 percent officers, the rest enlisted soldiers, including Dutch captured in Java and British captured in Singapore. They slept in barracks and they were allowed to talk freely and go outside.
"We had . . . people from Eng­land, Scotland. Java. America. Australia, with an extraordinary cross-section of experiences, and we developed our own little college. Guys who were trained in special fields would hold classes. And so we kept ourselves busy mentally. Otherwise, it was an extraordinarily boring experience. There's really not a helluva a lot to talk about."
There was an enlisted section at the camp of American prisoners, who were required to work. Each day they would go out and travel by train to a seaport and work all day loading and unloading ships. They were able to pick up Japanese news-papers on the train. Back at camp, there was an American naval officer who had studied Japanese and could read the papers.
"This was the source of our infor­mation over time. We could see from the reports that the progress of the action was coming closer and closer to Japan," Gallagher said.
The officers refused to work. "The enlisted men were made to work, but they were given better ra­tions and they were able to do a lot of stealing of food, so they were in better shape than we were."
The officers were fed a cup of rice about three times a day and a bowl of soup with some greens. "Occasionally, very rarely, there might be some fish or small bits of meat in the soup."
They all became emaciated. "We were all in very bad shape. I weighed about 113 pounds when I got out."
For more than a year Gallagher's parents had no idea that he had sur­vived the sinking of the USS Hous­ton. The Navy had notified the fam­ilies of everyone on the ship that the ship had been sunk and "it was pre­sumed that all hands were lost."
In conformity with the Washing-ton Treaty, established in 1922, which dealt with the treatment of prisoners of war, the POWs were eventually allowed to write post-cards home, which were handled through the Red Cross. It was a year or a year and a half before Gal­lagher got word to his family that he was alive, but incarcerated.
Many of the other 248 survivors from the USS Houston were cap­tured by the Japanese and taken to Burma to build a railroad so the Japanese could fight the British in India, the basis for the film "The Bridge on the River Kwai." "We lost a lot of men on that," Gallagher said.
After the Battle of Okinawa, Gal­lagher and the other POWs were moved back to Honshu, on the western side of the island, for the re­maining six months of the war.
Suddenly, one day on Honshu, they woke up and the working party of enlisted men was not required to go and work that day. That touched off a rapid succession of remarkable events.
"When that working party didn't go out I was convinced that was the end of the war," Gallagher said. "The next day, we woke up and there were no guards around... . Here we are, totally unguarded, wondering what was going to hap-pen. I kept saying, `The war is over, the war is over.'
"And sure enough, the following day, here comes God only knows how many planes, American bombers from Guam, loaded with supplies, food, medicines and they came over at about 200 feet and their bomb bays opened and here comes all these parachutes (with supplies)."
The parachutes were spread out all over the countryside and the pris­oners ran after them like school kids chasing candy from a piñata. There were emergency provisions—chocolate and small cans of meat—and garrison supplies, large cans of fruit, soup and stew.
"We didn't need any training to utilize all that food," Gallagher re-calls. "You'd go out in the fields and find combat rations which were immediately consumable and you consumed them. The other ones we brought back to the galley and our cooks opened them up arid cooked us some good garrison food. It was manna from the heavens."
Under the terms of surrender, the Japanese were required to give the Allies pinpoint locations of all of the prisoner-of-war camps.
The POWs did not know the atomic bombs had been dropped on Hiroshima and Nagasaki. Gallagher has no second thoughts about the decision.
"As far as myself and my fellow prisoners of war, I don't think we would have made it through another winter. We were extremely thin and malnourished." In the winter, tem­peratures got down into the mid-30s. "We had no heat and totally in-adequate blankets made out of wood chips . . . We would never have made it through 4 1/2 years."
The day after the supplies came out of the sky, the Red Cross ar­rived. The POWs were put on trains, taken down to Yokohama, put on the battleship USS Wisconsin and taken to Guam, where Gallagher was in a naval hospital for a couple of weeks before being flown home.
He was put on three months re-habilitation leave and went to Flori­da. "I put myself on a rigorous schedule of exercise, rest and food. I had a marvelous recovery to the same weight I was when I was cap­tured (174 pounds)."
A second lieutenant, he remained on active duty and was promoted in rapid succession to the rank of lieu-tenant colonel. The decision had been made by the commandant that all POWs would be restored to their proper ranks according to the lineal list as soon as possible.
Gallagher retired from the Marine Corps in 1960 and landed a job in the business office at Stanford un­der Alf Brandon.
Today, he lives with his wife Tay (a nickname for Mary Agnes), in a 68-year-old Jefferson Colonial style house on Melville Avenue in Pro­fessorville, the same house they moved into 35 years ago. Four of their six children went on to attend Stanford University. Gallagher, whose real first name is Frank, served on the Palo Alto City Coun­cil from 1967-'71 and as vice mayor in 1971.
Gallagher is matter-of-fact about his experience as a POW. "I view it as something that happened as a re­sult of my responsibility, as part of my career. It happened and I sur­vived it. I can't say it has hurt; I can't say it has benefited me."
During the Korean War, Gal­lagher returned to the site of the in­terrogation camp at Ohuna. "There was no trace because all the build­ings had been temporary. . . . I didn't miss the fact that I didn't find it."
He harbors no animosity toward the Japanese.
"I do not allow myself to brood on that because I saw the effects on other people who were filled with animosity on a continual basis and it didn't help them at all. I decided I wasn't going to do that."
Frank E. Gallagher Jr.
March 29, 1915-Feb. 9, 2015
Palo Alto, California
<![if !vml]>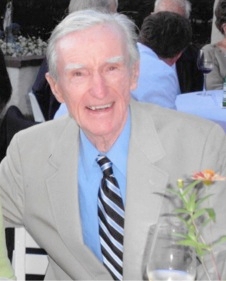 <![endif]>
Colonel Frank E. (Ned) Gallagher Jr., USMC ret., passed away Feb. 9, 2015, in the home that he loved surrounded by his family.
Ned was born in Watervilet New York, March 29, 1915. He graduated from Brookline High School, Lawrence Academy Prep. and Boston University, where he pursued his interests in business and music. Ned enrolled in the ROTC program and eventually accepted a regular permanent commission with the United States Marine Corps in 1939, a decision that shaped and formed the rest of his life.
With WWII imminent, he was assigned as a first lieutenant to USS Houston, the Flagship of the Asiatic Fleet and President Roosevelt's favorite ship. Following an early sea battle, the Houston was sunk with over 900 lives lost.
Ned swam alone for nine hours. He was eventually captured by the Japanese and spent the remainder of the war as a POW. Ned's musical skills came into play as he frequently sang the Ave Maria and Broadway show tunes to lift the spirits of his fellow prison mates.
Following the end of the war, Ned returned to the USA where he met and married the love of his life, Tay. Together they raised six children, Paul (Marcy), Frank, Mary, Brian (Cathy), David and Kevin (who passed before Ned), each of whom learned and cherished the tenants of faith, love, family and friends. Following his service of 21 years in the Marine Corps, Ned retired as a full colonel and began working for Stanford University.
Ned continued his dedication of service, with terms on the Palo Alto City Council, where he also served as Vice Mayor. In retirement, he volunteered as an ombudsman for seniors living in residential facilities.
Ned loved his faith, his wife, his family, this country, and the Marine Corps, and he loved the game of golf. Ned always claimed that one could identify a true gentleman by the way one conducted himself on the golf course. He had the pleasure of even breaking 80 at The Stanford Golf Course, where he was a longtime member.
Throughout his life, Ned lived by a code that he shared with others. The code was unswerving, and its importance was unmatched. Ned began and ended each day on his knees in prayer until the final year when his doctor gave him special dispensation to stand while praying. Ned is survived by his wife and children, eight grandchildren and a niece and two nephews