<![if !vml]>

<![endif]>
<![if !vml]>

<![endif]>
USS HOUSTON CA 30
"The galloping Ghost of the Java Coast"
<![if !vml]>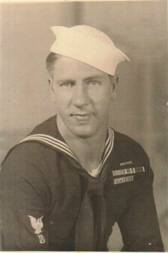 <![endif]>                     <![if !vml]>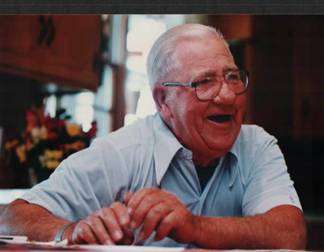 <![endif]>
Harry T. Kelley
September 7, 1920 ~ October 20, 2010
Harry T. Kelley, 90, of Basehor, KS., passed away at home surrounded by his loving family on Wednesday, October 20, 2010. Funeral services will be 1:00 p.m. Monday, October 25, 2010 at the Chapel Hill-Butler Funeral Home. Burial with Military Honors in Chapel Hill Memorial Gardens. Visitation will be 6:00-8:00 p.m. Sunday, October 24, 2010 at the funeral home. In Lieu of flowers Memorial contributions may be made to the Disabled American Veterans. Harry was born on September 7, 1920 in Kansas City, KS in the community of Rosedale to Ace Albert and Jessie K. (Johnson) Kelley. He lived in the Kansas City area all of his life. Harry served his country honorably in the U.S. Navy from 1940 to 1945. He was an ex-prisoner of war captured for three and a half years under Japan.  He was a lifetime member of VFW Post #11499 in Basehor, KS. He also served as member to the American Ex-Prisoners Of War, Disabled American Veterans and MOC (Military Order Of The Cooties). Harry enjoyed fishing, and traveling during the winter months. Harry is preceded in death by his parents, son: Calvin D. Kelley, 2 sisters and 6 brothers. Survivors include the love of his life, wife of 62 years, Audrey M. (Jones) Kelley of the home, two sons: Harry T. Kelley Jr. of Joplin, MO., Carl B. Kelley and his wife Dee of Antioch, CA. Left behind to cherish his memory are his grandchildren: Shannon Greene, Justin Kelley, Rebecca Curry (Nathan), Dean Kelley, and Jessica Fouts (Travis). He is also survived by 7 great grandchildren: Adriana, Taylor, Luke, Jacob, Alexandria, Annalise, and Lily. Condolences may be left at www.chapelhill-butler.com.    
A Prisoner of War Diary
by Harry Kelley
1940
<![if !vml]>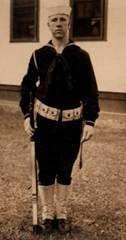 <![endif]><![if !vml]>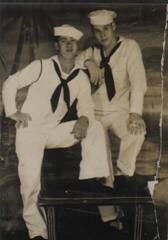 <![endif]>I joined the Navy on July 29, 1940, and was sent to boot camp at the Great Lakes Naval Station in Illinois. I spent nine weeks there in training. After having a ten-day furlough in October of 1940 I was sent to San Diego, California, for a short time, and then on to Long Beach for a few days. I was then shipped out to Honolulu, Hawaii. I boarded the ship on December 6th, 1940. This ship was the U.S. S. Yorktown.
1941
During 1941 I was still aboard the U.S.S. Yorktown, that is until the latter part of April. At that time I signed up for a draft to go aboard the Asiatic Fleet. I was then transported to the U.S. S. Henderson. It took 23 days from Pearl Harbor to get to Manila, in the Philippines. I was on the U.S.S. Otos for two weeks after going to Manila, and from there they put me on the U.S.S. Houston. This ship was known as Roosevelt's flagship for a long time. I was there for the remainder of time. When the war started I was in Elo Elo, the island of Sebue, South of Manila.
1942
After the war started we did a lot of convoy duty, hauling what material we had south to Java and Australia. Several places were under heavy air attack. On February 4th we took one bomb killing 49 men. After three days we went to Southern Java where we buried all these men. Around 1
the end of February, on the 26th, we teamed up with 3 Dutch Cruisers, 1 English, and 1 Australian, making 5 in all. We were up against an entire Japanese fleet. The first day we lost the English cruiser. The second night we lost the two Dutch cruisers; that left the Australian and the U.S.S. Houston. The two of us refueled in Java and on the 28th we headed for Australia through the Sundra Straits.
Around on March 1st we came upon a large landing fleet and a great number of war ships. After a short time both ships were fatally damaged and we lost both, but in the process it was reported afterward that they had lost seven ships, while we lost only two. That night the U.S.S. Houston lostl'00 young men and the captain. After 11 hours in the water I was picked up by one of their landing craft and taken to the beach where several other men were being held under9L,csr-'1 There were 21 men in this group, and we were held in two different groups and places on Java until April 15, 1942. At that time we were transported by truck to Batavia, Java — which was known as the bicycle camp. In October we were transferred to Singapore, along with several other Americans they had captured on Java, both Army and Navy. We were taken by boat to Maulmain, Burma. When we left Singapore we were on two old Jap freighters loaded with Prisoners of War and whatever railroad material they could steal from other countries. About a day and half out we came under air attack by 3 American B17 bombers. At first they passed over us. Then they came back dropping their bombs. There was a direct hit on the number 2 ship, sinking it right away. Then they circled around and came at us again from the right side. They were just seconds late dropping their bombs, but did hit a lifeboat hanging over the side. They missed the ship entirely, but there was some shrapnel flying. I was hit in my right leg, but not seriously hurt. We stayed around to pick up what men we could, but not very many. Then we proceeded on to Maulmain, Burma, with only the one ship.
1943
February
Here we worked on what is known as Death Railroad — 215 miles of the worst jungle in the <![if !vml]>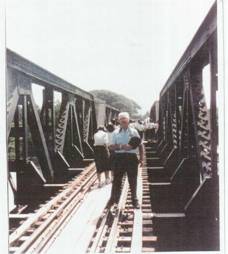 <![endif]>world. We had little food and no medicine. We worked 16 to 20 hours a day. We had every kind of disease a jungle could hand out. The brutality was severe even over a slight infraction. You were
worked over with a bamboo pole or rifle butt. During the time of my being a prisoner we lost 133 men, most were buried in the jungle. There were people from every country that were captured in the Pacific along with thousands of native people who died like flies. The people would drag them out in the jungle and leave them. We were in Burma around 18 months.
1944
We came out of Burma around April or May into Thailand, over the infamous Bridge over the River Kue on our way to Saigon, French Indo-China. While in Saigon we went North to a French resort town called aalot; it was in the mountains and to get there you had to go by cable car to the top. While there we dug tunnels in the side of the mountains. I was a cook at that time and had a hard time getting a fire to burn because of the elevation. From there we worked several river crossings where the bridges were blown out. We traveled mostly at night and stayed in tunnels during the day because of American airplanes watching any <![if !vml]>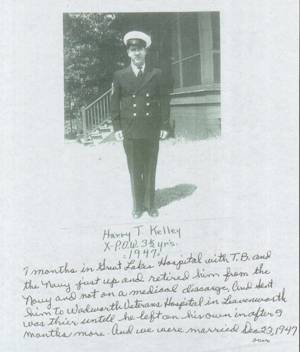 <![endif]>movement on the railroad, which was right along the coast.
We returned to Saigon in June of `45 and like always there were working parties going out every day. On July 6th we received our first Red Cross package. What a change from eating rice and fish all the time. Around the middle of August we were moved to a different camp and no more working parties. The Japanese hauled in so much food, like meat and vegetables, that we could hardly handle it. We knew the war was over, but we didn't let on like we knew it. Just overnight all our regular guards (Koreans) were gone. All regular Japanese army people were there. Finally on September 5th the Air Force flew into Saigon and drove into camp in some jeeps. That was Sunday. They said everyone who wanted to go home had better be there the next morning. (We were going into town whenever we wanted to out of the new camp). We were there all right. It was September 6th, and my birthday was September Ith – what a birthday gift! On that day we flew to Calcutta, India, and on October 1, 1945, I arrived in New York after being away from home for five long hard years. After all the men we lost aboard ship and the men we buried in P.O.W. Camps, I am very grateful I am still here after 66 years and I still say "Why me, Lord?"