<![if !vml]>

<![endif]>
<![if !vml]>

<![endif]>
USS HOUSTON CA 30
"The galloping Ghost of the Java Coast"
LAWRENCE FRANCIS KONDZELA
<![if !vml]>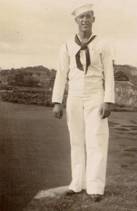 <![endif]>                                          <![if !vml]>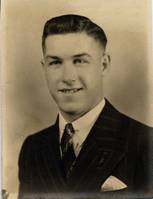 <![endif]>
Lawrence Francis Kondzela was born in Aniwa, WI on January 11, 1922. He was the 2nd of 6 children born to John & Jennie Kondzela.
He grew up in Northern WI and enjoyed fishing, hunting and playing baseball.
He graduated from Antigo High School on May 20, 1940. Not knowing what he wanted to do with his life...he decided that he would join the Navy and see the world. So soon after graduating, he went to Boot Camp at Great Lakes, IL. There he met a very good friend, Sulo Suomi...who also was stationed on the USS HOUSTON.
<![if !vml]>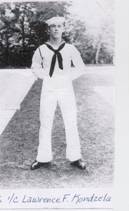 <![endif]>
After graduation from boot camp he was sent straight to the USS HOUSTON on September 28, 1940. He was a Seaman 1ST Class Boatswain mate.
He enjoyed life aboard ship and the many ports he visited. He would often write home and tell of his adventures and would tell his family of the photo album he was putting together. He told them he planned on sending it home as soon as he had it filled. So they could see all the wonderful places he's seen and the great friends he's made. He never got the chance to send that album home.
On March 1, 1942, he was aboard the USS HOUSTON when it was sunk in the Java Straits by the Japanese. He swam to shore along with others of his shipmates. They were taken prisoners by the Japanese and taken to Serang (Batavia).
He was held in several POW camps...from Serang he was sent to Singapore (Changi Camp) on October 16, 1942...on to Moulmein (Burma) on January 17, 1943, then with the main group at Alepauk (Burma) on January 17, 1943. He died at the 80 Kilo Camp (Burma) on April 13, 1943 of Cerebral Malaria.
He was one of the first HOUSTON survivors to die while a POW. We can only imagine the brutality and hardships he must of endured as a POW, working on the Railway.
His family didn't know if he was alive or dead. They knew that the HOUSTON had been sunk and some of the crew had been reported as POW's of the Japanese. But his name wasn't on any of the lists...so he was listed as missing in action.
<![if !vml]>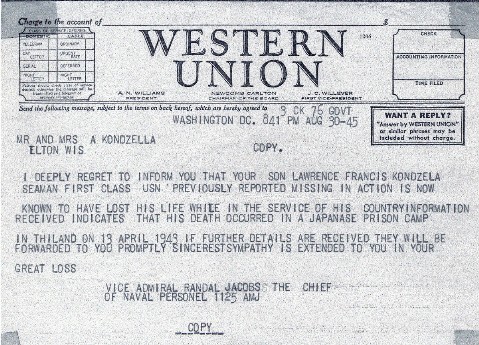 <![endif]>A letter his parents received on February 16, 1944, still gave them no information on Lawrence's fate. But, on August 30, 1945 they received a telegram saying their son, who was previously reported missing, was now known to have lost his life while in a Japanese POW Camp. His friend Sulo Suomi (whom he met in Boot camp) was with him at the end. This gave his family some solace, knowing he didn't die alone. That someone who really cared for him was with him when he died.
His family was devastated, as so many others were during this time. The only thing that helped them get through was the return of Lawrence's body in 1946. He was buried in the Queen of Peace Catholic Cemetery, Antigo, WI with full military honors.
 S 1/c Lawrence Kondzela was awarded the following medals:
Purple Heart
Purple Heart Certificate
Combat Action Ribbon
Honorable Service Lapel Pin (Ruptured Duck)
Gold Star Lapel Button
Asiatic Pacific Area Campaign Service Ribbon(2 engagement stars)
Philippine Defense Ribbon with Bronze Star
American Defense Service Medal (1 star)
Presidential Unit Citation (1 star)
Prisoner of War Medal with Ribbon
American Campaign Medal
World War II Medal (1941-1945) "Victory Medal"
LAWRENCE FRANCIS KONDZELA POW 'FILE'
<![if !vml]>
<![endif]>
PHOTO's
Senior picture (in suit) May 1940
Picture on the launch aboard the HOUSTON
Graduation from Boot Camp (hands behind his back) 1940
Lawrence on top of Wall City 1/24/40
<![if !vml]>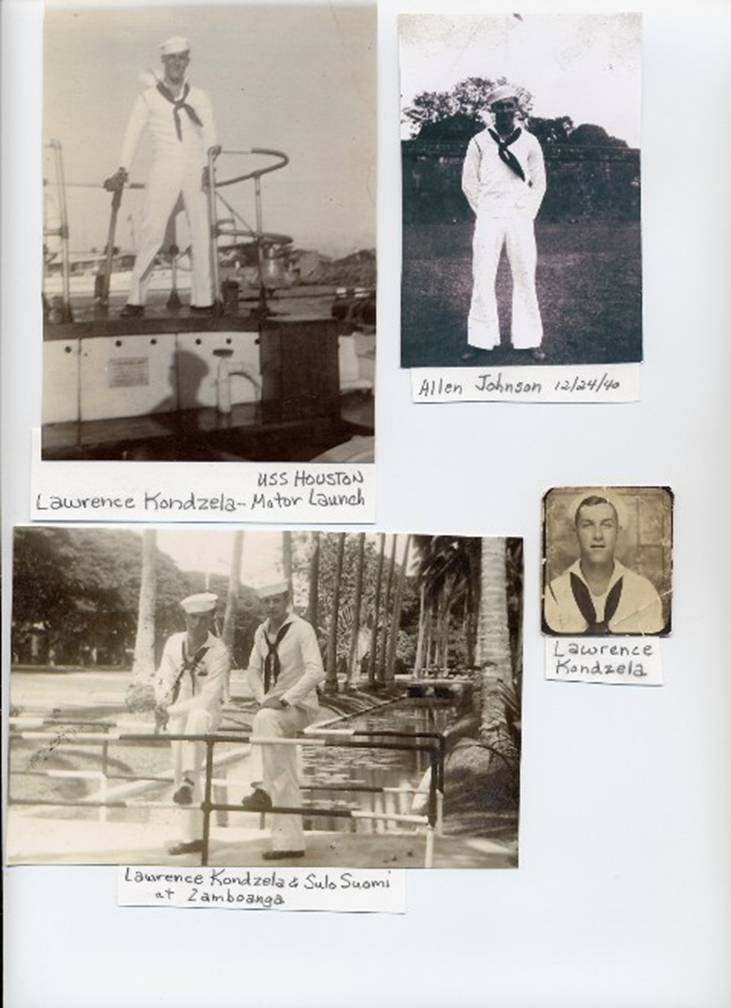 <![endif]>