<![if !vml]>

<![endif]>
<![if !vml]>

<![endif]>
USS HOUSTON CA 30
"The galloping Ghost of the Java Coast"
James O. Paquin
James O. Paquin was my Great Uncle. He was the son of my Great Grandmother Rebecca Paquin – Duty. Grandma Duty passed away in 1993 at the age of 91. I was very close with her and she used to share stories about the war and Uncle Jimmy's ordeal on the Houston and her sinking and also the turmoil my Grandmother experienced during this time. The lack of information " not knowing " if you will during this period.
My memories of uncle Jimmy are vague. He passed away when I was 7 yrs old. He did pass away from an automobile accident. He passed away in Toledo, Ohio in 1972.
My Mother ( who's mother Valerie Paquin was James Paquin's sister) has a Family tree memoir that was given to her written by my Great mother Rebecca Duty that I can refer to confirm the dates if needed also I can fall back on my Mothers account of dates.
I know My Grandmother was very proud of Uncle Jimmy and what he went through and the rest of the crew went through. also. I just wanted to assure that his info was accurate.
This is the poem /song My Great Grandma Duty wrote... we do know this was written by her in August of 1945. My Mom isnt sure when she tranferred from handwritting to typed form for Grandma. This was an ongoing project in the early mid 80's that my Mom did for Grandma. This (what I am e-mailing) is a copy made
from the original typed version.
<![if !vml]>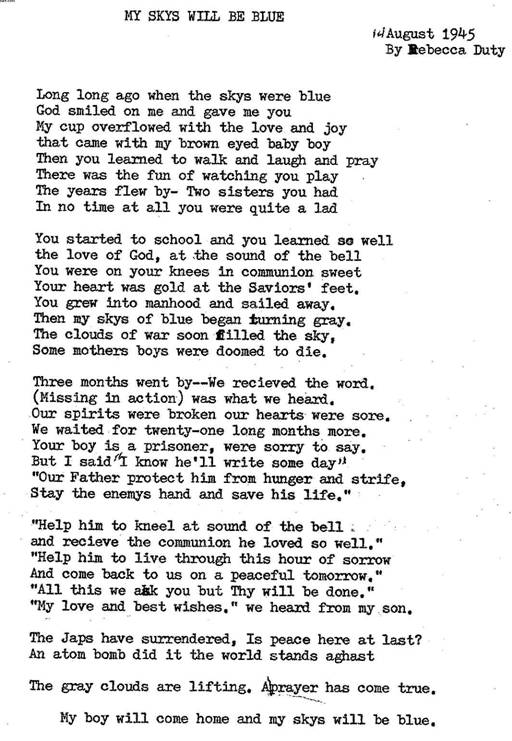 <![endif]>
We do not know the significance of the "14" hand written in by Grandma Dutys its her handwritting. Obviously she had added the "14" after the typing was complete sometime in the mid 80's but through out the memoirs she had hand written edits. We are assuming she started the poem on that date.
Just a side note; I very young when Grandma started sharing stories about Uncle Jimmy. She used a nickname for Uncle Jimmy. She referred to him as "Brother"
This was a nickname that my Grandma Valerie and Aunt Shirley would call him and Grandma Duty also.
For the longest time ( I had thought she was referring to her Brother when she was telling me the stories) I had known she had a brother named James(Jimmy).
as I grew older I did make the connection of Uncle Jimmy being her Son.
I was fortunate to hear this poem/song along time ago, read to me by Grandma with her true emotions. This was written by Rebecca Duty; My Great Grandmother and the the Mother of James O. Paquin - USS Houston crew member and WWII liberated POW.
I hope you enjoy it. Thanks Don Hayden jr.
There are three newspaper clippings attached.