<![if !vml]>

<![endif]>
<![if !vml]>

<![endif]>
USS HOUSTON CA 30
"The galloping Ghost of the Java Coast
Marvin Sizemore
                           <![if !vml]>

<![endif]><![if !vml]>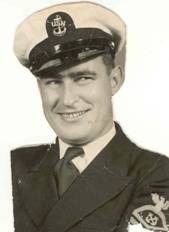 <![endif]><![if !vml]>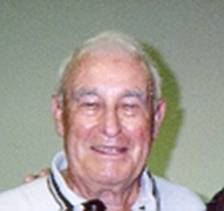 <![endif]><![if !vml]>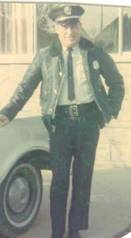 <![endif]>
Navy POW awarded WWII medals
By Meagan Engle, Staff Writer 5:22 PM Monday, December 5, 2011
<![if !vml]>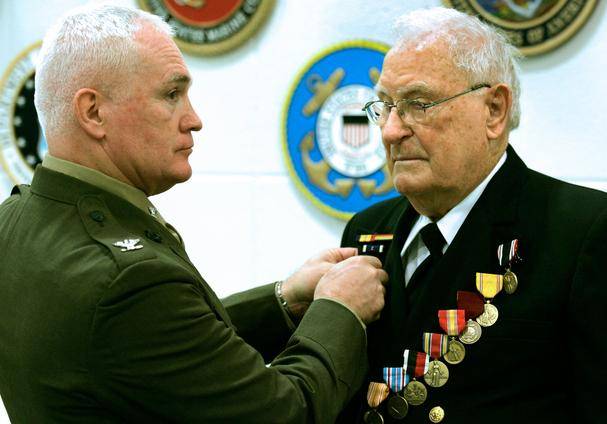 <![endif]>
Naval Reserve Officers Training Corps (NROTC) Commanding Officer Colonel Patrick Malay pins one of 14 overdue medals on World War II veteran and former Oxford Police Department officer, Marvin Sizemore, Monday, Dec. 5, 2011 during a ceremony at Miami University, Oxford. U.S. Sen. Sherrod Brown (D-Ohio) obtained the overdue medals for Sizemore.
OXFORD — World War II prisoner of war Marvin Sizemore stood stoic as medals long overdue to him were pinned to his Navy uniform during a ceremony in his honor Monday.
Sizemore, now 89, was awarded 14 medals and ribbons - including a Combat Action Ribbon for taking enemy fire and a Prisoner of War Medal - for the three and a half years he spent in a Japanese work camp.
The Hamilton resident was 19 years old when he was captured while receiving medical treatment at a civilian Dutch hospital in Java. He was sent to the hospital just a day before the ship he was serving on, the USS Houston, sank in combat, leaving more than 1,000 men dead.
During his three and a half years in captivity, Sizemore suffered from malnutrition and beatings. He was forced to work on the Burma-Thai Railway, known as the "Death Railway." For every mile of the 258-mile railway, 411 lost their lives, said Col. Patrick Mayal, who pinned the ribbons on Sizemore.
"All your civil rights are taken away from you. It was tough," Sizemore said. "It's something that you never understand unless it happens to you.
"A lot of guys just gave up," he said.
Sizemore said he was liberated a few days after the atomic bombs were dropped on Japan. He weighed just 90 pounds at the time. In 1948, He married his wife, Helen.
Sizemore continued to serve in the Navy and was later assigned as an instructor to the Miami University Naval ROTC. In 1959, he retired from the Navy with a rank of chief petty officer.
His career continued as a patrolman with the Oxford Police Department, where he worked for 20 years. Many of his former co-workers who attended the ceremony said they knew little of Sizemore's service.
"I didn't know it until today what a hero my friend Marvin is," said Oxford police Acting Chief Robert Holzworth.
Sizemore's daughter, Freddi Crawford, worked for a year with Sen. Sherrod Brown's office to get the medals for her father.
"It made me cry," Crawford said of the ceremony. "I'm really proud of him."
Honors given to Marvin Sizemore
Navy Good Conduct Medal for three consecutive years of honorable service with four bronze stars for additional good conduct enlistments
WWII Victory Medal
American Defense Service Medal with Fleet clasp and one bronze star for service between Sept. 8, 1939 and Dec. 7, 1941
American Campaign Medal for service in a designated area
Asiatic Pacific Campaign Medal with two bronze stars for service in a designated area
Navy Occupation Service Medal with Asia clasp for service in territories occupied by the enemy
National Defense Service Medal for active duty service between June 27, 1950 and July 27, 1954
Presidential Unit Citation Ribbon recognizing the USS Houston's action in the Battle of Sunda Strait as part of the Java Campaign
Navy "E" Ribbon for those who won Battle Efficiency competitions after 1974
Combat Action Ribbon for satisfactory service while under enemy fire
Prisoner of War Medal
Discharge Button for honorable discharge
Honorable Service Lapel Pin (Ruptured Duck)
Bronze star appurtenance for Philippine Defense Medal for combat service in defense of the Philippines from Dec. 8, 1941 to June 1, 1942
Timeline:
1940 – June – US Navy
1942 – March – Captured as Japanese POW
1945 – September – Liberated from Japanese capture
1959 – August – Retired from active US Navy service
1959 – December – Police Officer, Oxford, Ohio
1960 – April – Dayton Police Academy
1980 – March – Retired, Oxford, Ohio Police Department
Interests: Fishing, Golf