<![if !vml]>

<![endif]>
<![if !vml]>

<![endif]>
USS HOUSTON CA 30
ďThe galloping Ghost of the Java CoastĒ
Glenn Wesley Spragle
<![if !vml]>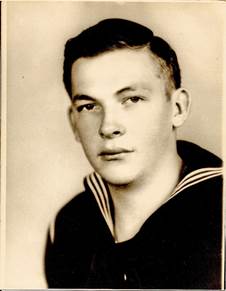 <![endif]>
My name is Jim Krause and Iím a nephew by marriage to Glenn Wesley Spragle. Glenn was a gunners mate on the USS Houston and went down with the ship in February 1942.<![if !vml]>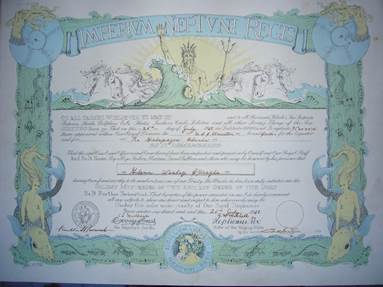 <![endif]> Glenn had been on the Houston for a number of years, going back to at least 1938 and apparently was on board when FDR took his 1938 cruise to San Francisco.
FDR even signed his shellback certificate. I thought you might be interest in a photograph of both Glenn and the certificate.
<![if !vml]>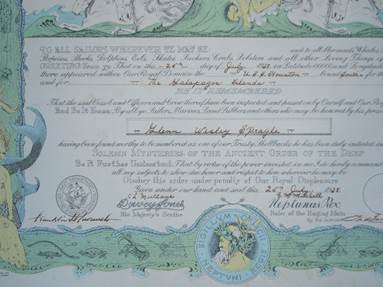 <![endif]>
Crew members produced a booklet on board, no doubt presented to FDR with photos of the cruise.
I have finally got around to making a PDF of the original booklet in my possession.
Click icon to view booklet

<![if !vml]>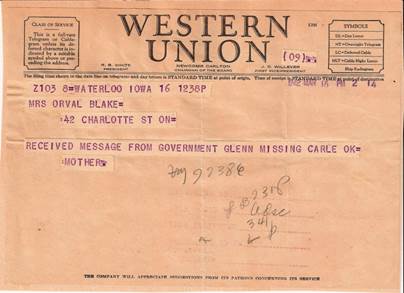 <![endif]>This is Jim Krause again, the nephew of Glenn Spragle a crew member on the Houston. I have found a couple of things to share on the site. First is a telegram from Glennís mother to my aunt letting her know that Glenn is missing. Itís so unusual to find documents like this anymore. Itís a good example of how people communicated a loss back then.
Telegraph informing the family that Glenn from the Secretary of the Navy informing the family in 1945 that Glenn was officially declared deceased.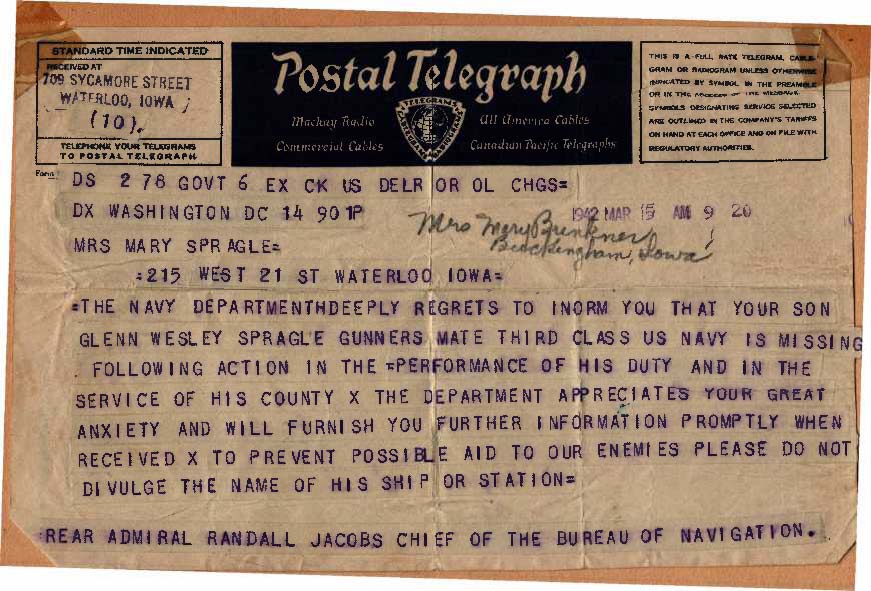 This is a copy of the letter that the Secretary of the Navy sent to Glennís mother, who was remarried (thereby not having the same last name as Glenn)
<![if !vml]>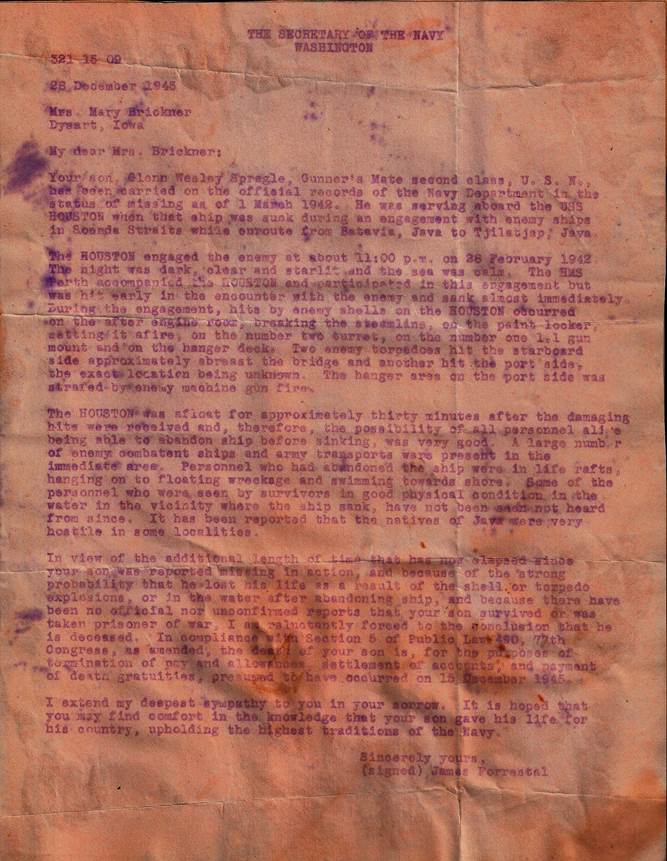 <![endif]>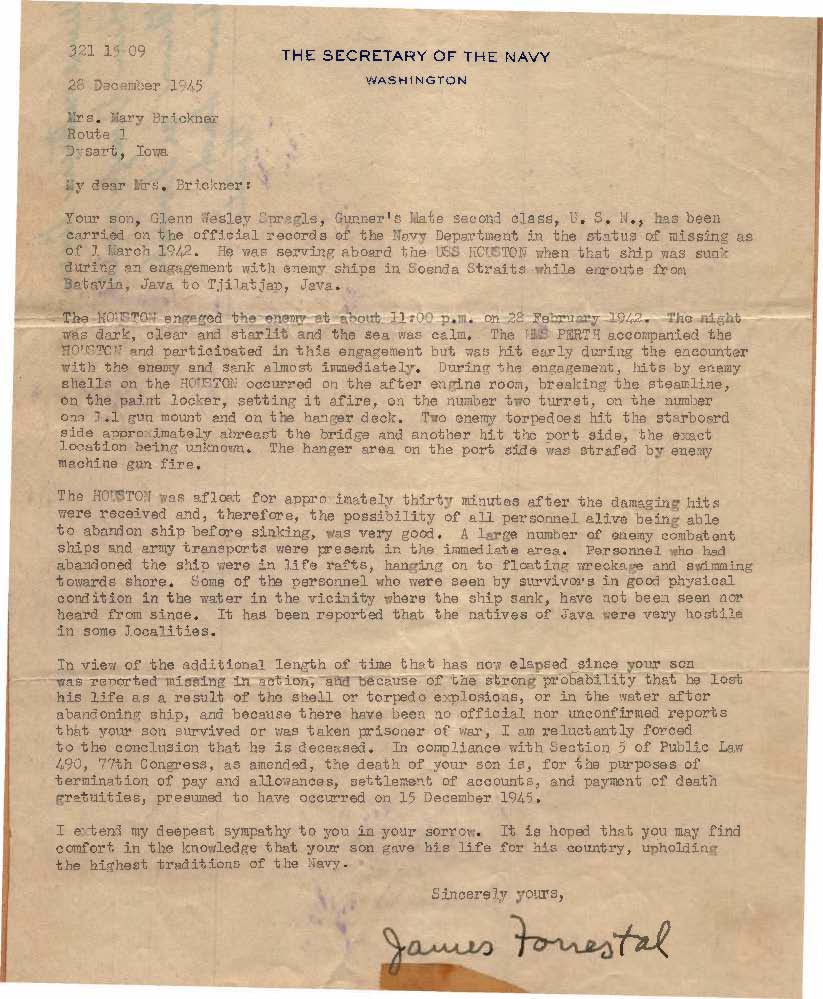 This document is from a friend of Glennís who survived captivity and wrote to my aunt regarding Glennís fate.
<![if !vml]>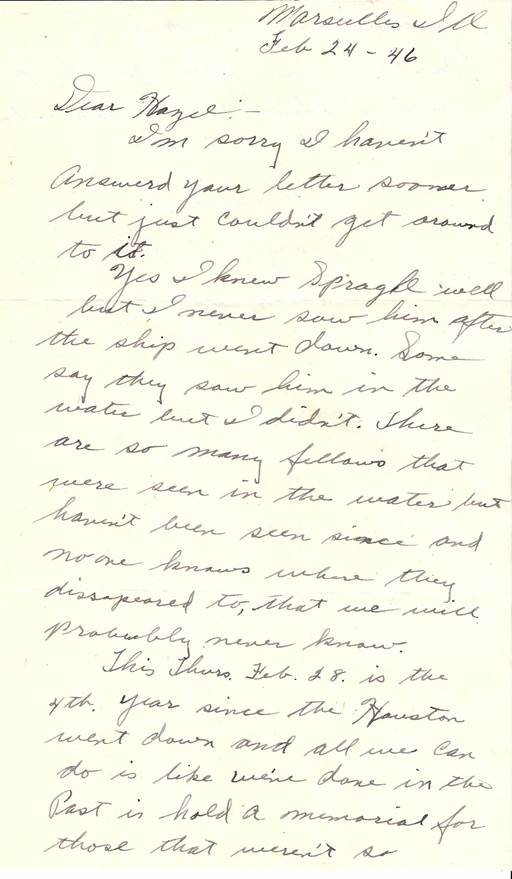 <![endif]>
<![if !vml]>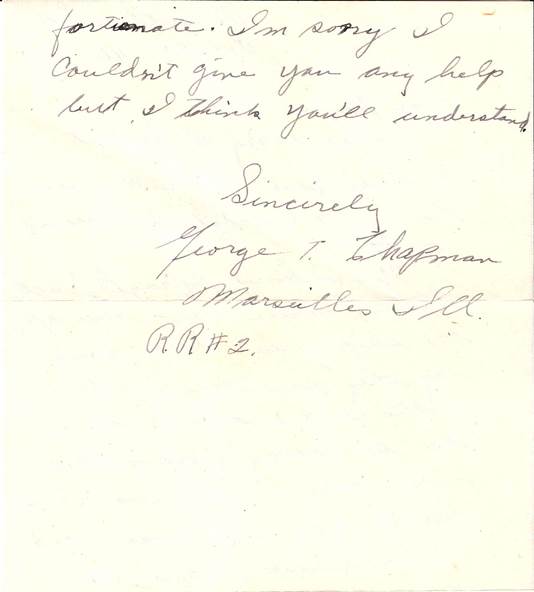 <![endif]>
.