<![if !vml]>

<![endif]>
<![if !vml]>

<![endif]>
USS HOUSTON CA 30
"The galloping Ghost of the Java Coast"
<![if !vml]>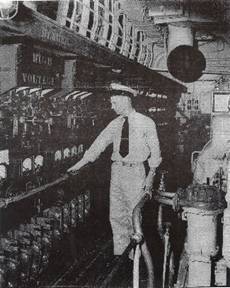 <![endif]><![if !vml]>

<![endif]>
William J. Stewart
Highlight of My Naval Career
In April 1958 I was assigned to USS Lewis, DE 535 for duty. Lewis was in Shipyard Hunter's Point for major overhaul. While in the shipyard the Billy Graham Greater San Francisco Bay Area Crusade was in progress. I was privileged to sing in his Crusade choir several nights. One night guest soloist was Ethel Waters. One night George Beverly Shea sang "How Great Thou Art" with choir back up. That was the highlight of my Navy career.
Second place to the above was my opportunity in 1953 to play (bass viol) in the Honolulu Symphony Orchestra.
All during this time I was quite proud to be a Chief Electrician's Mate.
William J. Stewart
EMCM, USN (Ret.)
My Experiences
Departed Batavia at dusk Sun 28 Feb in company with HMAS Perth. Headed for Australia via Sunda Strait. Ran into an invasion fleet about 11:30pm and commenced firing. Perth was torpedoed and sank soon. Houston continued firing until about midnight when turret 2 was hit and set afire. I was in the shell deck crew of that turret. Magazines flooded and Houston was out of action. Some 5" guns still fired manually. I was burned black to my waist in the turret fire but got clear. A few minutes later "abandon ship" was ordered. I went on deck - illuminated by enemy searchlights - and obtained a life jacket. I hesitated to leave the ship but decided to leave and go as far as I could.
Left ship and swam aft to get clear of shell fire as quickly as possible. Once clear discarded my trousers and shoes. I could see land (almost a half moon) and started swimming toward it. Passed 2 overcrowded life rafts but rejected them - didn't want anyone to touch my burned skin. Had to swim zig-zag plan 6 through 2 lines of Japanese transports and continued toward land. Was difficult swimming with my damaged left arm. Apparently current was favorable - swells moving ashore helped a lot. A good kick of my feet would take me quite a way on each swell. After a long time (3 - 4 hours) I drug bottom. Crawled the last 100 ft to shore. Started hunting water to drink. About 20 minutes later (no water) the moon went down and I sat down to sleep. Woke at daylight to see one of our men perched on a rock about 100 feet out. He came to the rock in the dark, crawled up on it and went to sleep.
We started out to try to get to Batavia and get on a ship for Australia. About 1/4 mile down the road we met up with a platoon of Japanese soldiers and were taken prisoner. About mid morning we were joined by another party of about 24 (Houston) men. Were marched a while and stopped for the night. Marched next day until arrived at Serang (Bantam) Java and placed with about 1000 other prisoners in Serang theater.
At Serang theater we were fed a small loaf of bread twice a day. The second day the Japs bandaged my back, left arm, and ears - changed bandages every other day for 6 days. After the last treatment, they brought in a doctor (survived off Perth). He looked at my arm and asked "Can I move my fingers? Can I more my thumb?" I could. He says "Good, I will have you well in a week." He used cod liver oil ointment under my bandages. Ten days later skin had formed over the raw area. Three weeks later I was pretty well healed - all except my ears - they took a month longer.
After three weeks in Serang theater I was moved to Serang prison for another 3 weeks. It was an improvement over the theater. Middle of May I was loaded on a truck and moved to Batavia Bicycle Camp - a Dutch Army base with good facilities - horrible food. Stayed there about 6 months. Was loaded aboard a ship for Singapore (3days enroute); stopped in English Camp "Changi" ten days then boarded a ship for Japan. Conditions aboard ship were horrible - almost as many rats and mice aboard as there were prisoners. Food was a small ration of rice twice a day. Stopped in Formosa for Coal. They brought aboard a bunch of yellow watermelons to feed the prisoners - they were delicious. Sanitation was poor - Dutch prisoners started getting dysentery. 102 men died and were buried at sea between Formosa and Japan. Docked in Moji – port for Nagasaki.
At Nagasaki we boarded a passenger train for trip to OHasi (20 miles inland from Kama Ishi). Trip required 3 days and nights. Food was rail road box lunches and pretty good. Arrived OHasi early December and housed in a temporary building- near an iron mine. Belongings were searched next day.
We were used for odd jobs in connection with an iron ore concentrating mill all winter and spring. Early summer a permanent camp was completed below OHasi and we moved again - was there when the war ended. Food was sparse but mostly edible.
In OHasi the men were assigned (about 50 men) to carpenter, machine, electrical, and welding shops according to their trade. Those left over were assigned to dig iron out of the mountain. About a year later a cave-in in the mine killed 14 Japanese. Prisoners were removed from the line and transferred elsewhere. i worked in the electrical shop. I learned enough electricity from our electricians and radiomen to pass all my future Navy exams for advancement with high  marks.
Guards were changed every month. One month guards would be bearable. Next month they would generate excuses to beat on people. At work we were turned over to civilians.
One of our men had a radio in camp. We knew when the atomic bombs were dropped, also when the war ended.
About the time the war ended I developed a kidney infection. Fortunately a B-29 delivered some penicillin which started me healing.
B-29s dropped food, clothing, and medicine in barrels with parachutes. About half the barrels broke loose from the parachutes. Fortunately no one was hit by one of the barrels.
Two days after war ended I was sent to a hospital in Marioka. Was there three days then put on a train for Sendai. Boarded one of our LSTs for lunch and transfer to hospital ship USS Rescue. The lunch was fried chicken and it sure tasted good.
An hour later, USS Rescue was underway and I was headed home. Made a brief stop in Guam, another in Pearl Harbor. Three weeks enroute and I was in Oakland Naval Hospital.
This record is very brief. Much happened between the lines.
<![if !vml]>

<![endif]>
William J. Stewart
EMCM, USN (Ret.)