<![if !vml]>

<![endif]>
<![if !vml]>

<![endif]>
USS HOUSTON CA 30
"The galloping Ghost of the Java Coast"
<![if !vml]>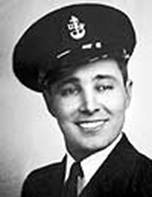 <![endif]>        <![if !vml]>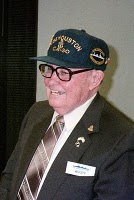 <![endif]>
Stanley Woody
"I remember every face. They all come back to me. I can see everything. It's all in my mind."
<![if !vml]>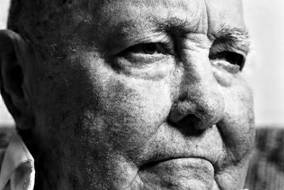 <![endif]>Stanley Woody didn't talk much about his time as a prisoner of war.
Maybe he didn't want to bring anyone down, or maybe he didn't want to seem like he thought he deserved something for what he endured. Those explanations make sense to friends and relatives, who say he was endlessly humble and upbeat.
Or maybe the answer is simpler: Maybe he just didn't want to think about it. After all, his treatment by the Japanese during World War II has been described as among the cruelest in modern history.
Woody, who died last week at age 88, was one of the last remaining survivors of the sinking of the Navy cruiser Houston. After the ship went down in the Java Sea in 1942, many of its sailors died in the water, by drowning, gunfire or shark attack. Those who survived the day long swim to shore were immediately taken prisoner by Japanese forces. Woody spent almost four years in captivity.
<![if !vml]>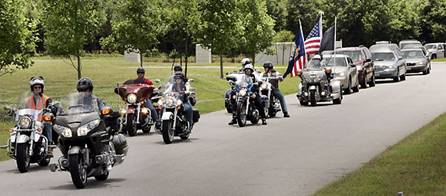 <![endif]>At his funeral in Norfolk on Monday, more than 100 people gathered to remember him as much more than a POW. They recalled him as hardworking, funny and eternally generous.
<![if !vml]>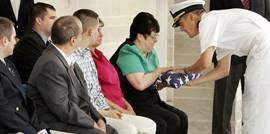 <![endif]>
"I always liked to say that he was living history," said his oldest child, Betty Rover. "But he was also just a really great guy and a really great father. He was so loving, and he had so much character."
Born in 1922, Woody learned early about hardship and loss. After his parents died, he was sent as a small boy to an orphanage in Chattanooga, Tenn. He grew up there, staying until he joined the Navy at 18.
Boot camp brought him to Norfolk, after which he was assigned to the Houston. He was 19 when Japanese bombs sank the ship off the coast of present-day Indonesia.
Woody jumped overboard as the Houston went down.
"It was chaos - just chaos," he told The Virginian-Pilot in an interview in 2008. "The Japanese were machine-gunning the lifeboats. I was glad I wasn't in one."
He treaded water through the night, repeatedly ducking under the surface for as long as he could hold his breath, hoping to avoid Japanese gunfire. At first light, he spotted the mountains of Java in the distance. By sunset, he was dragging himself ashore, where scores of Japanese soldiers stood waiting.
The grueling physical labor began almost immediately. First, Woody was put to work unloading supply barges. Then he was forced to push cartloads of weapons for miles.
After that, he spent more than a month locked with 40 others in a small room without toilets or space to move. Next, he was herded onto a ship, where thousands of POWs were packed into a dark, filthy hold for the weeks-long journey to Burma.
Once there, he and other prisoners were put to work building a 250-mile rail line over rivers, through jungles and into Thailand. It became known as the Death Railway, for the tens of thousands of laborers who died during its construction.
For those who managed to stay alive, there were beatings, starvation and nights spent on the hard ground under blankets of mosquitoes.
Woody's weight dropped to 90 pounds. He said in 2008 that his youthful spirit is what kept him alive. "Every day, I've thought of something from that three and a half years. I remember every face. They all come back to me."
<![if !vml]>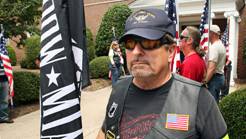 <![endif]>He was freed in August 1945, the morning after the United States dropped the second atomic bomb on Japan. He came home to learn that his siblings all thought he'd gone down with the Houston. Until his death, he kept a clipping from a Chattanooga newspaper that published his name and photo in a tribute to his hometown's war dead.
"He survived what so many others didn't," said a friend and veterans advocate, Donna House.
A slight man with a bright smile, Woody remained in the Navy after his rescue and married in 1948. He and his wife, Mary Lou, raised five children, three of whom still live in Hampton Roads.
In all, he served 22 years in the military. After retiring as a master chief petty officer, he spent three decades as a civilian employee with the Naval Supply Center.
For years, he participated in World War II POW and veterans groups, including one that meets monthly for breakfast at Bunny's Restaurant in Suffolk. When they started decades ago, the breakfasts drew dozens of former POWs, many of whom were captured by the Japanese and survived the Bataan Death March.
With Woody's death, the group is down to just two members.
<![if !vml]>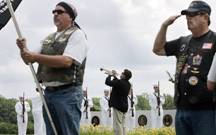 <![endif]>One of them, 92-year-old Marion "Turk" Turner, recalled Woody on Monday as someone who was always ready with a joke.
"You'd seldom meet him when he didn't have one for you," Turner said. "As much as anybody I've ever known, he just loved talking to people."
Woody's children said it was that love of socializing that prompted him to take a part-time job in 1969 as a bartender at the Norfolk Yacht & Country Club. He stayed until he was 84.
"He probably would have kept going if his knees hadn't given out," Rover said. "Everybody there knew him, and he was everybody's favorite."
After his wife died in 2001, Woody continued to reside in the same house they bought together in Wards Corner in 1956. He welcomed the births of three grandsons and a great-granddaughter and lived independently until this January, when he was hospitalized with kidney and heart problems.
He died in his sleep June 1 at the Hampton VA Medical Center, his children said.     
<![if !vml]>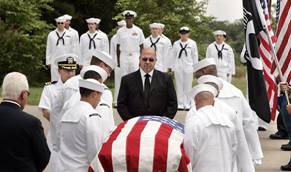 <![endif]>Sailors from the amphibious assault ship Bataan carried his flag-draped coffin to the Albert G. Horton Jr. Memorial Veterans Cemetery in Suffolk, where he was buried Monday afternoon with military honors.
Corinne Reilly, (757) 446-2949, corinne.reilly@pilotonline.com