<![if !vml]>
<![endif]>
<![if !vml]>

<![endif]>
USS HOUSTON CA 30
"The galloping Ghost of the Java Coast"
Floyd Wesley Barron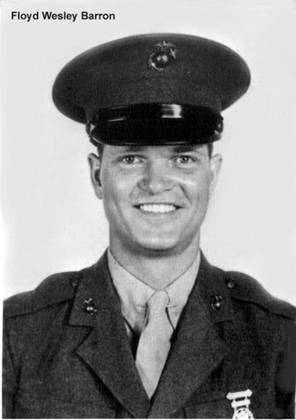 Floyd Wesley Barron
The search into a Marine's past
Feb. 28, 2009 was a very thrilling day in my life. On the 67th anniversary of the Battle of Sunda Strait, I found myself in the Rockwall, Texas home of USS Houston Marine Bob Charles, talking about his time aboard the Houston during those opening weeks of World War II.
However, I also had a personal interest in the Houston. I had a fifth cousin, Floyd Wesley Barron, who was also in the Marine detachment on the ship. He did not survive the battle, but Bob recalled Wesley after I sent him some details I had discovered through his son Dana.
Wesley's grandfather, James Daniel "Jeems" Barron, and my great-great-grandfather, Henry Callaway Barron, were brothers. Both of them were in the 31st Louisiana Infantry during the Civil War and fought as snipers during the siege of Vicksburg, Mississippi. They were captured and later repatriated back to their homes in Spearsville, Louisiana. Hearing the story of Wesley and the Houston from my dad at age 7 sparked my lifelong interest in researching World War II. Being in contact with the three surviving USS Houston Marines today and discovering that Bob recalled my distant cousin has been the ultimate thrill.
In doing a family history book with my uncle, Lyle Smith, I began digging to see just how much I could find out about Wesley and if I could find a Houston survivor who remembered him. My search initially led me to this web site and contacting Shawn Flynn, who started the ball rolling. This led to e-mail contact with Don Kehn Jr. and Dana, which ultimately led to phone calls to the homes of Ned Gallagher and Lloyd Wiley. I had wonderful conversations with Ned and Lloyd's wife Dorothy and have been blessed to form these new friendships.
On Nov. 30, 2008, I finally got in touch with Bob and told him the reason for my call.
"I had a distant cousin who was in the Marine detachment with you and wondered if you may remember him," I began.
"What was his name?"
"Floyd Wesley Barron."
"That name sounds real familiar," Bob answered, and I could tell he was searching deep into his memory bank. He added that he could possibly identify a picture of him if I sent him one.
I began this project not really expecting to have the kind of success I did. Needless to say, it has been the thrill of a lifetime.
I mailed a package to Bob in early December with Wesley's Marine photo and the write-up on him that appears on this web site. When I called Bob a few days later, he told me that he looked very familiar, and he was pretty sure he remembered him. He just wasn't sure in what capacity.
The clincher came when I received an e-mail from Dana. Since I had popped up on the radar screen, so to speak, as a new person with a huge interest in the Houston, he had been researching in his archives and came up with a document that stated Wesley was one of eight Marines who came on board the Houston in Darwin, Australia on Jan. 15, 1942. This was confirmed by a newspaper interview Lloyd Willey gave in 1999 because he was also one of those eight.
Through this information, I discovered that Wesley had taken his training in radio communications and was en route from Pearl Harbor to the Philippines aboard the troop ship Chaumont when the war broke out. The convoy was diverted to Darwin. There were 15 Marines in this group – seven were sent to the USS Boise and the other eight to the Houston. Lloyd said the seven on the Boise survived the war because the ship had the misfortune (that turned out to be a blessing) of striking a reef and had to go stateside for repairs. The only two survivors on the Houston from this group were Lloyd and Lt. Miles Barrett.
Armed with this information, I contacted Dorothy Willey again and also sent her Wesley's photo. Unfortunately, Lloyd does not remember him as time and some health issues have diminished those long-ago memories. I told Dorothy that I was still glad to be in contact with someone who was there that day.
I called Bob back with this information his son had supplied to me.
"Dana found a document plus an interview Lloyd gave that said my cousin Wesley came on board in Darwin Jan. 15, 1942. Do you remember that day?" I asked.
"I sure do," he replied quickly.
This was the information that jogged his memory, and he could definitely place Wesley. I have Lloyd to thank for this, because he was the first one off the motor launch to board the ship, and Bob said, "That's a Marine?" I later found out that Houston Marines were hand picked since she was the flagship of the Asiatic fleet. They had to be six feet tall and have that "Marine" look. Dorothy confirmed to me that Lloyd was a bit shorter, was losing some hair earlier and had a smaller frame. Turns out, however, that he was a Marine through and through.
As Bob's memory came back to him, he recalled that Wesley was "the good looking kid among the bunch. He was the only one who looked like a Marine." To the best of his memory, Wesley was also the tallest one of the eight, having a long and lean frame, but he was solid from those years of working on his dad's farm in Louisiana.
Hearing those words from Bob was totally wonderful. I called my uncle and my dad and told them the good news that I had actually made a connection with Wesley after all these years! After meeting Bob, I completed an eight-page report for our family history book.
We had a wonderful four-hour visit on the anniversary of that fateful day, and his first-hand account of the two-day battle really gave me more insight on the Houston, even though I have read several books on the subject.
It was nice to see that Bob was able to have a sense of humor and has come to terms with the horrors he dealt with and witnessed as a POW for 43 months. After reading his book, "Last Man Out," I can fully understand why the Houston survivors, after being prisoners for six months, began to envy their shipmates who did not survive.
After our visit, Bob was still going strong. I hated to leave, but I had to make a four-hour drive back home.
As I got up, and we shook hands, he said, "I'm so glad you came down here to see me. I know it was a long drive for you."
"It was worth every mile of it," I answered, as I saluted him. He returned the salute, and our hands came down at the same time. We were standing close enough together that our hands clasped together again.
My uncle has informed some members of the Barron side of my family about the new information I've discovered about Wesley. The Barron reunion is held every November in Spearsville, and I plan to attend this year and give them a report of what I have discovered.
I also talked to my uncle who lives in Honolulu. He was about 6 years old in 1940 and remembers Wesley being around and working on his dad's farm before he joined the Marines. Then one day, he wasn't there and never saw him again. He didn't understand at that time what was going on.
Then, as a year or two passed, and as my uncle approached 10 years old in 1944, he had a few occasions where he was around Wesley's father and someone would ask, "Have you heard from Wesley yet?"
John Archer Barron would answer, "No, I haven't heard from him. But I know he's alive. He'll be home when the war is over."
However, Wesley died with his ship, and his father never gave up hope for his return all the way up to his death in 1953.
Wesley's family was able to contact a Houston survivor after the war who knew Wesley. I do not know if it was a Marine or sailor. He told them that when the order to abandon ship was given, Wesley was by his side and was uninjured. They went over the side together but got separated in the darkness, confusion and gunfire. He was never seen again. When talking to Bob about those who made it off the ship but not to the Java shore, his opinion was that most of them were shot in the water. I feel this is a reasonable conclusion although the actual circumstances to his demise will never be known.
To everyone I have talked to, both on the phone and via e-mail, thank you for your kindness, information, support and interest as I declare my search into Wesley's past on the Houston a complete success. God bless those Houston survivors still alive, and I salute Wesley and those still on watch at Sunda Strait.
Jeffrey D. Smith
Hot Springs Village, Arkansas
March 31, 2009
<![if !vml]>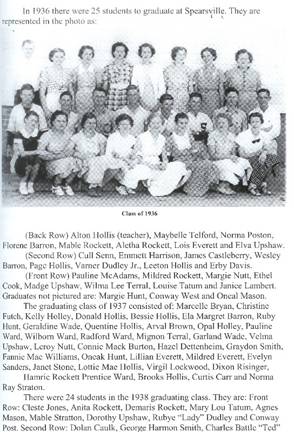 <![endif]>Wesley's parents, grandparents and nearly all of his 11 siblings are buried in Spearsville Cemetery, and a memorial plaque in his honor is placed among his family members' final resting places.