<![if !vml]>

<![endif]>
<![if !vml]>

<![endif]>
USS HOUSTON CA 30
"The galloping Ghost of the Java Coast"
<![if !vml]>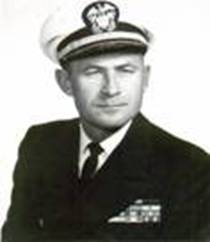 <![endif]>
Ray Goodson
Ray Goodson joined the Navy on October 31, 1939. While in boot camp in the Great Lakes he did some boxing. He absolutely loved the Navy – it was his home. He was on many ships: USS Mississippi, USS Houston (twice), USS Indianapolis, had Command of the USS Umpqua, had Command of the USS Opportune and was on the USS Keywaden.
He was a Japanese POW for 44 months after the Houston was sunk, being liberated in 1945. He graduated from Salvage Officer School in 1948 and Navy Diving & Salvage School in 1952. He retired after 25 years in November, 1963. Was a licensed Harbor Pilot to operate any tonnage ship, had an airplane Pilots license, and loved to sail as much as he could.
He was a real hero to everyone and the world was a much better place with him in it. Ray passed away on May 11, 2006 at the age of 85, and is now with his beloved Josephine.
GOODSON Ray Goodson 85, reunited with his beloved Josephine and was born into heaven on May 11, 2006. Ray was a great husband, father, grandfather, friend, and decorated war hero that gave many a chance for freedom. At the age of 17, Ray accomplished one of his childhood dreams and joined the US Navy. During his enlistment, he had many achievements and honors including being one of the first men to attend Deep Sea Diving School, boxing a Golden Glove Champion, and commanding 2 ships. During World War II, he was aboard the USS Houston Heavy Cruiser CA-30 that was attacked while in the Sundra Straights. After being blown from the ship and drifting at sea, he made it to a small island where natives helped him recover from Malaria. On March 25, 1941, the Japanese seized the island and took all the men as prisoners. This was the beginning of his forty-four month imprisonment as POW. During that time, he was transferred to many prison camps. While there, he overcame many struggles including torture, slave labor, and starvation. After the Atomic bomb was dropped just outside of his last camp, he was able to escape and head home. After long hospital stays, he re-enlisted in the US Navy. In his Navy career, he served the USS Keywadin (ATA-213), Opportune (ARS- 41), USS Greenlet (ASR-10), USS Alsteade (AF-41), and USS Umpqua (ATA) 209. He attended Diving and Salvage school and was named First Lieutenant and Diving Officer of the Opportune. He attended Deep Diving School and eventually became Lieutenant Junior Grade of the Umpqua. In addition to his sea time, he spent several commands at port. These included shore duty at the Reserve Fleet in Green Cove Springs, Florida and Naval Station Mayport, Florida as Officer in charge of the waterfront. His last voyage was again on the Opportune. In his era, Ray was the only Lieutenant to have ever commanded a Salvage ship. Once his tour was complete on the Opportune, he retired on November 3, 1963, as a Lieutenant. He still remained in civil service duties for many years afterwards and his jobs included being a harbor pilot. During his Naval career, he received the following medals, decorations, and badges: Purple heart, Presidential citation, Philippine Presidential citation, Good conduct, American Defense, American Campaign, Asiatic-Pacific Campaign (2 stars), WW II Victory, National Defense Service medal, Korean Service Medal, United Nations Service Medal and Philippine Defense Ribbon (1 star).Ray was a loving and comical soul. He enjoyed time with his family, reunions with his war buddies, and breakfast with his friends. He loved to sail and tell stories of his past. Our hero, father, grandfather and great-grandfather leaves behind his Daughters Donna, Karen (Arnold), and Joanne (Rick), and his son Gary (Terri), grandchildren Loralee (Stephen), Casey Marie, Casey, and Travis, and great-grandchild Creighton. In lieu of flowers, memorial donations may be made to Disabled American Veterans, P.O. Box 14301Cincinnati, OH 45250, www.dav.org, or the First Baptist Church of Middleburg, 2645 Blanding Blvd., Middleburg, FL, 32068, www.fbcmiddleburg.com . Memorial Services will be held Thursday, May 18, 2006, , at TOWN & COUNRTY FUNERAL HOME chapel, 7242 Normandy Blvd., Jacksonville, FL, 32205.