<![if !vml]>

<![endif]>
<![if !vml]>

<![endif]>
USS HOUSTON CA 30
"The galloping Ghost of the Java Coast"
John William Ranger received the Silver Star Medal for conspicuous gallantry and intrepidity in action.
<![if !vml]>
<![endif]>                  <![if !vml]>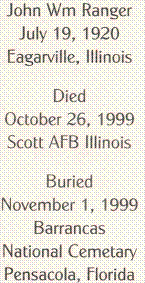 <![endif]>                           <![if !vml]>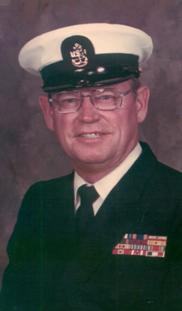 <![endif]>
Excerpt from:
ORAL INTERVIEW WITH THE FAMILY OF
JOHN WILLIAM RANGER, U.S. NAVY
USS HOUSTON
William G. Cox
Johnny was born in Eagerville, Illinois, on July 19, 1920. He attended School in the Gillespie area. His father was a coal miner of German descent, by the name John James Ranger, and his mother was American born Lithuanian who's name was Ann Cwinski Ranger. He had a brother, Albert Ranger, who also was in the Navy during the War. He was raised with his uncle, Charles Navikas who lived with them in his growing Up years.  He was an avid athletic person.  He had track medals that he won at different Schools. He was a football player and he joined the Navy right after he got out of high school. He joined the Navy and was finally taken on January 17th, 1938.  He attend boot camp at Great Lakes, Illinois, in the dead of winter. From there he was assigned to the HOUSTON.
To get him there, they had to put him on USS CHESTER, which took him Through Hawaii and finally caught up with the USS HOUSTON on station in the Far East. He was an aviation machinist's mate and worked on the airplanes onboard the USS HOUSTON. He also flew with the pilots when it was his time. When he wasn't working In that position, he was a phone talker for the captain on the bridge. He was a great man. He was very well liked by all the men in his outfit and he'd do anything he could to help them. JOHN W.RANGER and JOYCE LOVE were married for fifty-three years before he passed away, and we had two Children, Jerry Dale Ranger and Jolene Nalani. He stayed in the Navy for thirty years.
Full interview can be read HERE
AMERICA'S NAVY IN WORLD WAR II JW RANGER HERE
<![if !vml]>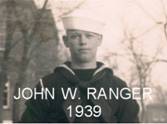 <![endif]><![if !vml]>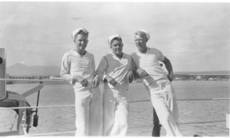 <![endif]><![if !vml]>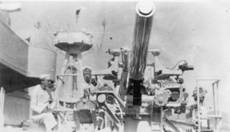 <![endif]>