<![if !vml]>

<![endif]>
<![if !vml]>

<![endif]>
USS HOUSTON CA 30
"The galloping Ghost of the Java Coast"
<![if !vml]>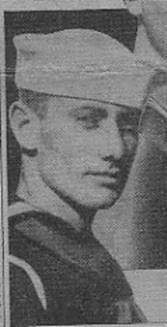 <![endif]>                                     <![if !vml]>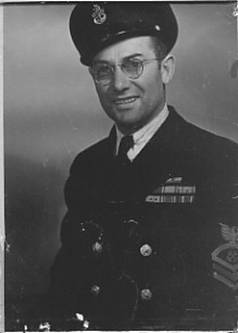 <![endif]>
Samuel T McMaster
<![if !vml]>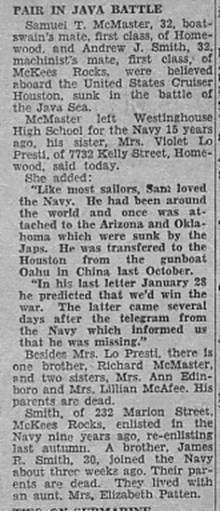 <![endif]>Samuel Thomas McMaster was born on May 5, 1910 to Frank and Enzy Bishop McMaster near Pittsburgh, PA. In 1927 he joined the Navy. He served as a Seaman 2c and Seaman 1c on the destroyers U.S.S.Flusser
and U.S.S. Reid and on the battleship U.S.S. Oklahoma. He became a coxswain on the heavy cruiser U.S.S. Minneapolis. It was on this ship he earned his Trusty Shellback distinction for crossing the equator. He framed that certificate and it was a source of fascination to me as a child.

In 1937 he was stationed at the Naval Air Station Lakehurst, NJ. He was one of the sailors assigned to helping land the dirigibles. He was on duty and hauling on the line attached to the Hindenburg. I always heard my Dad say to someone he had just met "shake the hand that shook the hand of a survivor of the Hindenburg". On the TV news one night in the 70s he saw himself in newsreel footage running towards the cameraman. He recalled that at the time he thought the guy was a fool for not running with the sailors. They almost ran him over trying to get out of the way of the burning airship.

He served as BM2c on the destroyer the U.S.S. Mugford. Then spent 2 years on the Yangtse River as a BM1c on the gunboat U.S.S. Oahu. He joined the Houston crew Oct. 6, 1941.

After I read 'The Last Battle Station' I asked my Dad where he was on the ship during the battle. He said he was a spotter on the bridge who told them which way the bombs would fall - he told me he left the bridge and went down the ladder just before Capt. Rooks was killed.

All he said about the sinking was that he lost his copy of Gone With the Wind.

Dad told my brother Tom, that after the ship went down he and a bunch of crewmen were hanging on the sides of a raft. With them was one of the cooks, who were scared to death of water because he could not swim. They put him in the center of the raft with the few supplies they had. In the morning the center of the raft and the cook were both gone. Dad said upon landing they were picked up by some Javanese and handed over to the Japanese.

Dad was in one of first groups sent to Burma. He said he loved to watch the elephants at work. One of his jobs was to place explosives. One time the POWs set it up so that nothing exploded. A guard went back up the hill to check and got blown up. I asked did they punish you? He said the Japs couldn't tell if it was deliberate. They did have to pick up the body parts though. He mentioned eating rice every day and sharing an egg with Joe Gans. If Gans got one he'd share it with Dad and vice versa. Dad figured that since he was a little guy the Japs didn't beat on him as much.

Mom and Dad went to reunions in the Pocono's a few years before Dad died. (It took a personal visit from Joe Gans and Otto Schwarz to make this happen). Mom said at these reunions that Dad didn't offer stories, but while he listened to others he would correct them if they were wrong about some ship detail.

When my sister Patty and I started taking our Mother to the Pocono reunions after Dad died we heard more stories. In Saigon they were being bombed by their own air force and Joe Snyder dived under his bamboo bunk. He said when he came out from under it Dad was laughing hysterically - did he really think the bamboo would have made any difference? /color>When Dad saw Joe at a Pocono reunion, after all those years, he told Dad he still owed him for a haircut.

/color>When they were liberated Jim Ballinger recalled beads of sweat on my Dad's bald head at the prospect of flying to Calcutta. He never did trust airplanes! I can't explain it, but he loved rice.

After liberation and release from St. Alban's Hospital in NY he went to visit his sister Violet in Mayville, NY. There he met Kathryn Jacobson they married about 6 months later. They raised eight children in Mayville, NY. While courting he was stationed at Sampson Naval Station and then in Brooklyn - where he met up again with Joe Gans.

In 1951 he was called back into service to train recruits and was stationed at U. S. Naval Training Center Great Lakes - he was released from duty after their 6 th child was born.

He always said that he never had a job he didn't like. He also told himself that if he got out of prison camp alive he "wasn't going to hate nobody". He woke up every morning happy to be alive and believed himself to be the luckiest man alive!
/fontfamily>
<![if !vml]>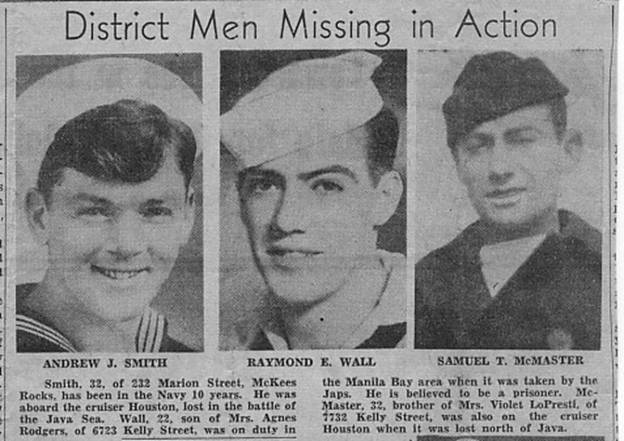 <![endif]><![if !vml]>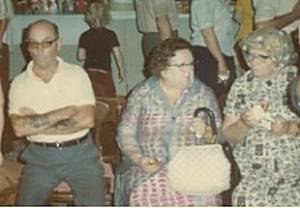 <![endif]>