<![if !vml]>
<![endif]>
<![if !vml]>

<![endif]>
USS HOUSTON CA 30
"The galloping Ghost of the Java Coast"
(CA-30, originally CL-30), 1930-1942

<![if !vml]>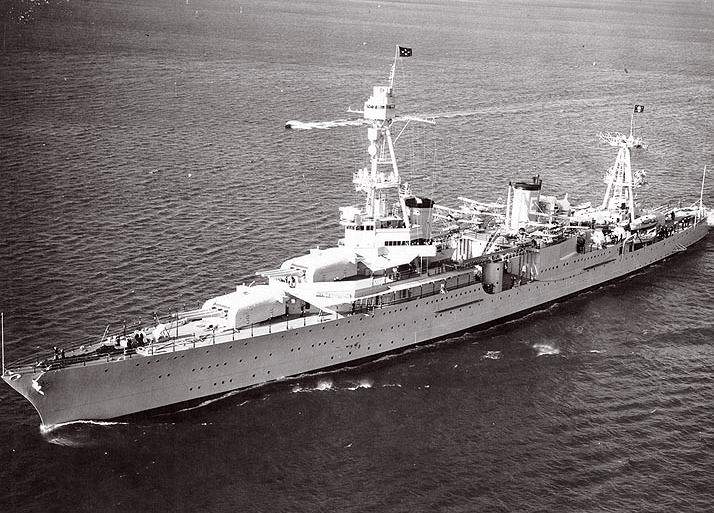 <![endif]>
USS Houston (CA-30) off San Diego, California, in October 1935, with President Franklin D. Roosevelt on board.
 She is flying an admiral's four-star flag at her foremast peak, and the Presidential flag at her mainmast peak.
 (CA-30: dp. 9,050; l. 600'3"; b. 66'1"; dr. 16'4"; s. 33 k.; cpl. 621; a. 9 8", 6 21" tt.; cl. Northampton)
The second Houston (CA-30) was launched by Newport News Shipbuilding & Dry Dock Co., Newport News, Va., 7 September 1929; sponsored by Miss Elizabeth Holcombe, daughter of the mayor of Houston, Tex.; and commissioned as CL-30 17 June 1930, Captain J. B. Gay commanding. Her designation was changed to CA-30,1 July 1931.
After conducting shakedown cruise in the Atlantic Houston returned to the United States in October 1930. She then visited Houston, Tex., and joined the fleet at Hampton Roads. Steaming to New York, the cruiser departed 10 January 1931 for the Pacific, and after stopping at the Oanal Zone and the Hawaiian Islands arrived Manila 22 February 1931. Houston became flagship of the Asiatic Station upon arrival, and for the next year participated in training operations in the troubled Far East.
With the outbreak of war between China and Japan in 1932, Houston got underway 31 January for Shanghai to protect American lives and property. She landed Marine and Navy gun platoons to help stabilize the situation and remained in the area, with the exception of a good will cruise to the Philippines in March and one to Japan in May 1933, until being relieved by Augusta 17 November 1933. The cruiser sailed to San Francisco to join the Scouting Force, and for the years preceding World War II participated in Fleet Problems and maneuvers in the Pacific. During this period Houston made several special cruises. President Roosevelt came on board 1 July 1934 at Annapolis, Md., for a cruise of almost 12,000 miles through the Caribbean and to Portland, Oreg., by way of Hawaii. Houston also carried Assistant Secretary of the Navy Henry L. Roosevelt on a tour of the Hawaiian Islands, returning to San Diego 15 May 1935. After a short cruise in Alaskan waters, the cruiser returned to Seattle and embarked the President again 3 October 1935 for a vacation cruise to the Cerros Islands, Magdalena Bay, Cocos Islands, and Charleston, S.C. Houston also celebrated the opening of the Golden Gate bridge at San Francisco 28 May 1937, and carried President Roosevelt for a Fleet Review at the same city 14 July 1938.
Houston became flagship of the U.S. Fleet 19 September 1938, when Rear Admiral Bloch broke his flag on board her, and maintained that status until 28 December, when she returned to the Scouting Force. Continuing the now-familiar routine of training exercises, she got underway for Fleet Problem 20, 4 January 1939 from San Francisco, sailed to Norfolk and Key West, and there embarked the President and the Chief of Naval Operations, Admiral Leahy, for the duration of the problem. She arrived Houston, Tex., 7 April for a brief visit before returning to Seattle, where she arrived 30 May.
Assigned as flagship Hawaiian Detachment, the cruiser arrived Pearl Harbor after her post-overhaul shakedown 7 December 1939, and continued in that capacity until returning to Mare Island 17 February 1940. Sailing to Hawaii, she departed 3 November for the Philippine Islands as the world situation grew darker. Arriving Manila 19 November 1940, she became flagship of Admiral Hart, Commander Asiatic Fleet.
As the war crisis deepened, Admiral Hart deposed his fleet in readiness. On the night of the Pearl Harbor attack, Houston got underway from Panay Island with fleet units bound for Darwin, Australia, where she arrived 28 December 1941 by way of Balikpapan and Surabaya. After patrol duty she joined the ABDA (American-British-Dutch-Australian) naval force at Surabaya. Air raids were frequent in the area, and Houston's gunners splashed four planes 4 February as Admiral Doorman, RNN, took his force to engage Japanese reported to be at Balikpapan. Houston took one hit, disabling her No. 3 turret, and cruiser Marblehead was so damaged that she had to be sent out of the battle area. Doorman was forced to abandon his advance.
<![if !vml]>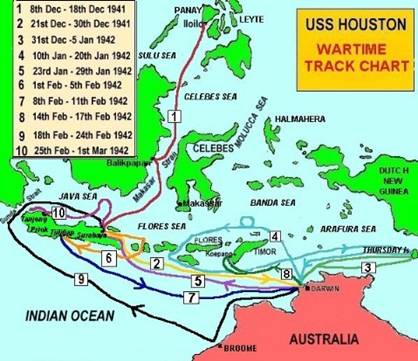 <![endif]>Returning to Australia, Houston departed 15 February with a small convoy to reinforce the garrison on Timor. Before the day was out, the group was forced to beat off numerous air attacks, and next morning the Japanese attacked in full force. During this defensive action, Houston distinguished herself by driving off nearly the entire raid without damage to her transports.
Receiving word that the major Japanese invasion force was approaching Java protected by a formidable surface unit, Admiral Doorman resolutely determined to meet and seek to destroy the main convoy. Sailing 26 February with Houston, HMAS Perth, HNMS De Ruyter, HMS Exeter, HNMS Java and 10 destroyers, he met the Japanese support force under Admiral Takagi consisting of 4 cruisers and 13 destroyers. In the Battle of the Java Sea which followed, Doorman's forces fought valiantly, but were doomed by lack of air cover and communication difficulties. The ships met for the first time in the late afternoon, and as Japanese destroyers laid smoke the cruisers of both fleets opened fire. After one ineffective torpedo attack the Japanese light cruisers and destroyers launched a second at 1700, this attack sinking Kortenaer. Exeter and destroyer Electro were hit by gunfire, Electra fatally, and at 1730 Admiral Doorman turned south toward the Java coast, not wishing to be diverted from his main purpose, the destruction of the convoy itself. With dogged fighting spirit he dodged another torpedo attack and followed the coastline, during which time Jupiter was sunk, either by mine or internal explosion. Then Encounter was detached to pick up survivors from Kortenaer, and the American destroyers, their torpedoes expended, were ordered back to Surabaya. Now with no destroyer protection, Doorman's four remaining ships turned north again in a last gallant attempt to stop the invasion of Java.
At 2300 the same night, the cruisers again encountered the Japanese surface group. On parallel courses the opposing units opened fire, and the Japanese launched a devastating torpedo attack 30 minutes later. De Ruyter and Java, caught in a spread of 12 torpedoes, exploded and sank, carrying their captains and Admiral Doorman down with them.
Before losing contact with Perth and Houston, Doorman had ordered them to retire. This was accomplished, but the next day the two ships steamed boldly into Banten Bay, hoping to damage the Japanese invasion forces there. The cruisers were almost torpedoed as they approached the bay, but evaded the nine torpedoes launched by destroyed Fubuki. The cruisers then sank one transport and forced three others to beach. A destroyer squadron blocked Sunda Strait, their means of retreat, and on the other hand large cruisers Mogami and Mikutna stood dangerously near. The result was foreordained, but Houston and Perth fought valiantly. Perth came under fire at 2336 and in an hour had been sunk from gunfire and torpedo hits. Houston then fought alone, her guns blazing at the enemy all around her, a champion at bay. Soon after she took a torpedo and began to lose headway. During this time Houston's gunners scored hits on three different destroyers and sank a minesweeper, but suffered three more torpedo explosions in quick succession. Captain Rooks was killed by a bursting shell at 0030 and as the ship came to a stop Japanese destroyers swarmed over her machine gunning the decks. A few minutes later the gallant Houston, her name written imperlshably in the records of heroism, rolled over and sank, her ensign still flying.
Houston's fate was not known by the world for almost 9 months, and the full story of her courageous fight was not fully told until after the war was over and her survivors were liberated from prison camps. Captain Rooks received posthumously the Medal of Honor for this extraordinary heroism.
In addition to two battle stars, Houston was awarded the Presidential Unit Citation.
Thanks to the Department of the Navy for all the information
<![if !vml]>

<![endif]>
DEPARTMENT OF THE NAVY -- NAVAL HISTORICAL CENTER
805 KIDDER BREESE SE -- WASHINGTON NAVY YARD
WASHINGTON DC 20374-5060