<![if !vml]>
<![endif]>
<![if !vml]>

<![endif]>
USS HOUSTON CA 30
"The galloping Ghost of the Java Coast
Robert Bob "Popeye" Pullen
Purple Riders of the Past
#30 Robert Bob "Popeye" Pullen
1919-1943
Popeye was a 1938 graduate of Arcola High School playing baseball, track, basketball and was a four year standout on the legendary 1934-1937 football teams coached by Kile McWherter. <![if !vml]>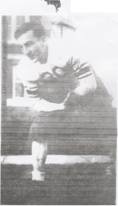 <![endif]>Those teams had a record of 32-1-1 and a 33 game winning streak counting the five games won at the end of th3 1933 season. The 1934 team was unscored on beating its opponents by a total of 103-0. The 1935 team outscored its foes by a margin of 223-7. In 1936 the scoring was 197-18 and in 1937 the Purple Riders beat their oppo­nents 167-18. The 1934 and 1935 teams had 16 shutouts in 34 games. In those four years only 7 TD's were allowed. The team records for those years were 8-0, 9-0, 9-0, and 6-1-1 to win the powerful Okaw all four times. Among teams defeated all four years were Tuscola (13-0, 7-0, 21-0, 21-0), Oakland (19-0, 12-7, 19-6, 20-0), and Arthur (19-0, 39-0, 24-0, 47-0). The only loss in over four seasons was 12-0 to Villa Grove on October 15, 1937. The following week Monticello tied the Riders 6-6.
Popeye was a fast and powerful running back, defensive back and linebacker. In an era of low scoring defensive games his offensive totals are amazing. Iie scored 34 touchdowns and 20 extra points, most by kick­ing for a total of 224 points. Rushing totals for those years are incomplete but he gained about 2,000 yards on teams loaded with other great backs and many outstanding linemen. Some of his individual highlights are as follows:
1. In 1934, as a freshman, he scored on a blocked punt to beat Monticello 6-0.
2.1935, caught a 65 yard TD pass from Marcus Watson to beat New 6-0.
3. 1935, scored 4 TD's in a 65-0 win over Atwood.
4. 1936, in a 19-6 win over Oakland he was involved in all the scoring with TD runs of 2 and 43 yards, and a 32 yard TD pass to Jess Sargent and kicked an extra point.
5.1936, 21-0 victory over Tuscola he ran for 2 TD's, kicked 3 EP's and rushed 142 yards on 39 carries.
6. 1937, scored all 20 points in a 20-0 win over Oakland, in addition to his 3 TD's and 2 EP's he rushed for 156 yards in 38 carries.
7. 1937, in his final game, a 21-0 win over Tuscola he passed for a 49 yard TD to Jess Sargent, caught a 30 yard TD from Donnie Ghere, passed 14 yards to Donnie Ghere for a TD and kicked 2 EP's
Bob was the son of Harvey and Myrtle Pullen and was one of 13 children. His sisters include Averill Bowles, Cora Steproe, Laurene Lindstrom, Louella Rippey, Martha Herrington and Doris Edwards. His four brothers were also Purple Rider athletes and football players. Harvey was the leading scorer on the 1931 team. Vernon was HB on the 1933 squad. Don was a lineman on the teams of the late 1930's. Carol was a star on the teams of 194548 including the 1947 Okaw champs, he was a speedster scor­ing many long TD runs and setting track records. The Pullen connection in Arcola sports continued as several nephews followed the tradition established by Popeye and his brothers. Jim Pullen and Paul Rippey played on Lou Baker's undefeated teams of 1954 and 1955. Joe Pullen played in the early 1960's. Steve and Greg Edwards were the HB's on the undefeated team of Steve Thomas in 1968, they also set records in track. More generations have followed with Doug, Jeff and Rick Pullen, Eric and Mike Padridge, and Toby Livingston. Shane, Barry and Brad Pullen are currently on Purple Rider athletic teams.
Popeye enlisted in the Navy in June 1940 and was assigned to the cruiser ship the USS Houston in September 1940. The ship was in the Philippines at the time Pearl Harbor was bombed. On March 1, 1942 the I ous' n was sunk in Sunda Straits in the Battle of Java. There were 1,065 men on the ship with 697 killed as the ship went down or wee shot in the water as they swam to shore_ Only 368 survived the battle. 79, including Popeye, died as P.O.W.'s. Popeye was able to swim to shore where he was taken prisoner. He was taken to the 100 Kilo P.O.W. camp in Burma (Thailand) to work on the Burma railroad. Prisoners were not treated properly, did not receive enough food or medical attention. Popeye died from an infected scratch on his leg on August 31, 1943 nearly a year and one-half after his capture. His family was not notified of his death until September 21, 1945. This was over / two years after his death and three and one-half years since his ship, the Houston, had been sunk.
Popeye Pullen, unfortunately, was one of 23 young men with Arcola roots who died in World War II, a seemingly high num­ber for a small community. Popeye was considered by many to be one of the greatest football players of his era, in Arcola and in all of central Illinois. Popeye is one of the many legends who make up the 100 year history of Arcola football.. Here is a list of oth­ers from Arcola who died in World War II: John Anderson, Roy Bright, Charles Brown, Henry Butts, Leroy Crowe, Carl Dilbech, Dewey Dutton, Alonzo Early, Dale Flory, Bobby Ghere, James Gibbs, Arlie Heidelbaugh, Henry Howey, John Kibler, Eddie Kitchen, James McDonald. Donald McMillin, William Miller, Charles Reese, Harold Reinheimer, Russ Sollars, Oscar Sylvester, Robert "Popeye" Pullen. In Korea: Robert Was. (P.O.W. death (&-20-53). In Viet Nam: Jack Shaffer, Richard Carson.